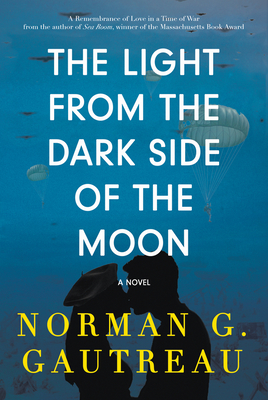 The Light from the Dark Side of the Moon
A Novel
Hardcover

* Individual store prices may vary.
Other Editions of This Title:
Paperback (11/8/2022)
Description
A remembrance of love in a time of war. 92-year-old Henry Budge defies most of his family by escaping a rehab hospital to make his way to France for the ceremonies of the 70th observance of D-Day. Before he dies, he hopes to at last address a grief he has allowed to simmer for decades and to rekindle memories of Élodie Bedier, the French Resistance fighter with whom he fell in love 70 years earlier, as a way of confronting his grief at losing her. During his return journey, he relives events of 1944: being wounded as he parachutes into Normandy; falling in love with Élodie who nurses him back to health; fighting the Germans alongside her and her resistance companions; and finally abandoning the war to rescue a group of children from the Holocaust, choices that leave Henry at risk of a firing squad for desertion and Élodie vulnerable to fatal condemnation from her compatriots. When he arrives back in France, Henry makes several shocking discoveries that shake the very foundations of the memories he's had of Élodie all these years and he is left to wonder about the love he has had for Élodie: what rests on true memory vs. what is based on countless imagined conversations over the decades?
Praise For The Light from the Dark Side of the Moon: A Novel…
"In this beautifully told story of war, heartache, and love, the tale of Henry Budge shines… It will bring both tears and laughter and will have readers hoping Henry is able to find what he is looking for." — Elizabeth Creel, The US Review of Books

"Gautreau's haunting images of the simultaneous shining of moonlight on the different theaters of the war and the 'reflection from the dark side' are awe-inspiring." — WAHEED RABBANI, Historial Novel Society

"This book is beautifully written, and has a story to tell... The Light from the Dark Side of the Moon is a must read. I trudged with Henry and Elodie up a mountain and down the other side. You can too. Worth every moment." — Mary Ann Smyth, http://www.bookloons.com

"The author effectively describes the horrors of war and the many French villages with sharp clarity, and the luminous prose succeeds in making the love story at the center of the narrative strong enough to withstand the chaos. An entertaining historical romance about courageous people." —Kirkus Reviews
Blank Slate Press, 9781943075614, 300pp.
Publication Date: May 21, 2019
About the Author
Norman G. Gautreau: A native New Englander with a life-long love of the sea, Norman's first novel, Sea Room, won the prestigious Massachusetts Book Award for Fiction in 2003, was an "All-City-Reads" choice in several cities, and was a BookSense® selection. He has since written several more critically acclaimed, prize-winning novels. An avid reader, poet, sailor, runner, and cyclist, Norman lives outside Boston with his wife Susan and three cats.