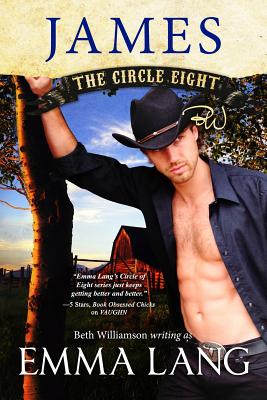 Circle Eight
James
Paperback

* Individual store prices may vary.
Other Editions of This Title:
Paperback (9/14/2020)
Paperback (2/12/2014)
Paperback (8/2/2013)
Paperback (7/5/2016)
Paperback (1/24/2013)
Paperback (9/16/2014)
Description
The moments that define us are the ones we least expect to happen.James Gibson spent his life trying to find his place in the world. The child of a feckless mother, abandoned as a boy, he was raised by his grandfather, only to lose him when he most needed him. Angry at the world, he struggles to find his path. Then he meets Catherine Graham.Catherine "Cat" Graham is the hellion of her family, the youngest sister of eight children. She has bucked tradition all her life, riding horses like a man, wearing trousers, and refusing all femininity except for her long blonde locks. She isn't impressed by cowboy James Gibson, no matter how he made her toes curl when he kissed her.When danger threatens both the Gibsons and the Grahams, James and Cat have to set aside their acrimony. Together they fight for those they love, and in the process find the other half of their souls.
Beth Williamson, 9781943089031, 192pp.
Publication Date: August 3, 2015