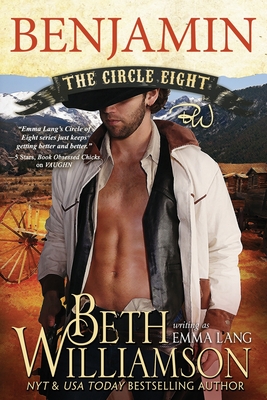 Circle Eight
Benjamin
Paperback

* Individual store prices may vary.
Other Editions of This Title:
Paperback (9/14/2020)
Paperback (2/12/2014)
Paperback (8/2/2013)
Paperback (8/3/2015)
Paperback (1/24/2013)
Paperback (9/16/2014)
Description
The shadows can consume us, if we let them. Love can redeem us, if we believe.Benjamin Graham has spent all of his adult life hiding from his past. Kidnapped as a child, he's struggled to leave the dark memories behind him until the fateful day when he comes to face to face with a monster from his past. He loses control, he loses himself, and tries to disappear into the wilds of Texas.Grace Beckett hasn't had an easy life. Her grief pushes her to disguise herself for revenge, but her path takes a right turn when she meets the Grahams. Ben becomes the only person who can help her, much to his dismay.When their mission brings them back to the dark past in Ben's nightmares, they have to find a way to rely on each other, stay alive and become the people they want to be. Love will become their salvation, if they forgive themselves and heal their hearts and souls together.
Beth Williamson, 9781943089062, 158pp.
Publication Date: July 5, 2016
About the Author
Beth Williamson, who also writes as Emma Lang, is an award-winning, New York Times and USA Today bestselling author of both historical and contemporary romances. Her books range from sensual to scorching hot. She is a Career Achievement Award Nominee in Erotic Romance by Romantic Times Magazine, in both 2009 and 2010, and a quarter-finalist in the 2014 Amazon Breakthrough Novel Award Contest. Beth has always been a dreamer, never able to escape her imagination. It led her to the craft of writing romance novels, fueled by Reese's and tenacious pursuit of the perfect story. She's passionate about purple, books, and her family. She has a weakness for shoes and purses as well as bookstores. Life might be chaotic, as life usually is, but Beth always keeps a smile on her face, a song in her heart, and a cowboy on her mind.;)