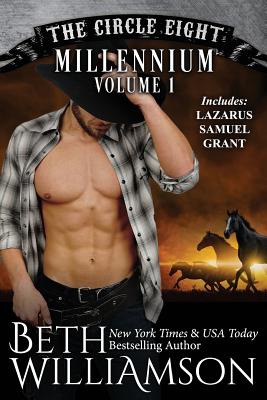 Circle Eight Millennium Volume 1 (Paperback)
Beth Williamson, 9781943089116, 232pp.
Publication Date: March 28, 2017
* Individual store prices may vary.
Description
Join the modern day Grahams of the Circle Eight and fall in love all over again.LAZARUSLazarus Graham is Texas Ranger: tough, hard, and inflexible. He has no time for life's fripperies. When he runs into Beatrice Cartwright again, his life turns upside down.Being a Graham isn't easy, and it's about to get a lot harder for one stubborn lawman and the woman who still owns his heart.SAMUELSamuel Graham is a hopeless flirt who finally finds a woman who makes him want to settle down. When Kim runs from commitment, Sam has to make the hardest choice of his life. Pursue the woman he's fallen in love with, or move on and protect his heart?GRANTGrant Graham has avoided romantic entanglements since a broken heart ten years earlier. The intense cowboy doesn't know what hit him after a whirlwind named Katie Malloy lands in his lap. Literally.Katie has spent her life being clumsy, making mistakes, and apologizing for the disasters she causes. Grant doesn't want to be the unlucky rescuer, but love comes in many disguises, and he won't know it hit him until he leaves her behind.