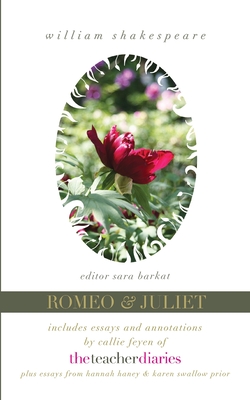 Romeo & Juliet
the full play-includes essays and annotations by Callie Feyen of The Teacher Diaries
Paperback

* Individual store prices may vary.
Other Editions of This Title:
Paperback (1/22/2018)
Paperback (1/20/2017)
Paperback (3/17/2018)
Paperback (9/27/2016)
Paperback, Large Print (2/23/2018)
Paperback (3/30/2018)
Paperback (5/5/2018)
Paperback (3/15/2018)
Paperback (4/2/2018)
Paperback (4/25/2002)
Paperback (3/24/2014)
Paperback (9/28/2016)
Paperback (2/5/2018)
Hardcover (8/27/2015)
Paperback (12/17/2017)
Paperback (2/8/2018)
Paperback (1/22/2018)
Paperback (3/31/2018)
Paperback (4/27/2018)
Description
"A love story, an epic tragedy, a cautionary tale about parents respecting their children, even, incredibly, more than a minor note of humor-Romeo and Juliet has it all," says editor Sara Barkat. Now, in this special volume, you can encounter this enduring play in the company of four vibrant women who love stories and ideas. At turns thoughtful, informative, personal, or funny, these are voices that will draw you into a timeless work and transform Shakespeare into more than just an old playwright you were (or are) compelled to read. Popular in his own time, speaking in ways that made his audiences laugh and cry, Shakespeare is not just for people who are "literary." Find your way into his beautiful (sometimes blush-worthy) words. And maybe take a few choice phrases with you into the future-for love, or laughter, or a tease. This volume includes the play, essays, personal annotations by Callie Feyen, four bonus classroom activities, and a glossary.
T. S. Poetry Press, 9781943120260, 242pp.
Publication Date: March 7, 2018
About the Author
Essayist Callie Feyen likes Converse tennis shoes and colorful high heels, reading the poetry of Gerard Manley Hopkins, and the Twilight series. Her favorite outfit has always been a well-worn pair of jeans and a white T-shirt, but she wants hoop skirts with loads of tulle to come back into style. Her favorite line from literature comes from Sharon Creech's Absolutely Normal Chaos: "I don't know who I am yet. I'm still waiting to find out." Feyen has been a middle school teacher, is the Teaching and Learning Editor and Children's Editor for Tweetspeak Poetry, and serves as the At-Risk Literacy Specialist in the Ypsilanti Public Schools.