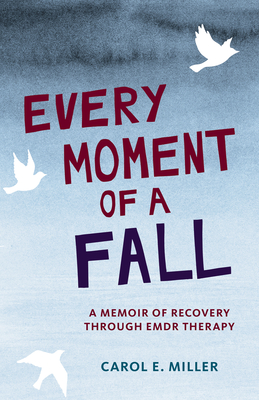 Every Moment of a Fall (Hardcover)
A Memoir of Recovery Through EMDR Therapy
Schaffner Press, Inc., 9781943156047, 264pp.
Publication Date: May 13, 2016
Other Editions of This Title:
Paperback (7/1/2019)
Compact Disc (5/1/2016)
Compact Disc (5/1/2016)
MP3 CD (5/1/2016)
Pre-Recorded Audio Player (5/1/2016)
* Individual store prices may vary.
Description
Carol E. Miller was sixteen when the private plane piloted by her father crashed, pinning her in the wreckage, critically injuring her parents and killing her twelve-year-old sister. Compounding this traumatic event, her father told her he wished she had died instead of her sister. For the next twenty years, she labored under feelings of guilt and lack of self-worth. When another in a long line of personal crises landed her in therapy with an EMDR (Eye Movement Desensitization and Reprocessing) practitioner, she began at last to investigate the crippling effects of the plane crash. Using bi-lateral stimulation to access her fiercely guarded memories, she learned to challenge the belief that the crash was all her fault, and that she didn't deserve to be alive.
This is a brave and revealing memoir of recovery from tragedy, and a fascinating, vividly narrated exploration of the increasingly popular eye-movement therapy developed to heal the wounds trauma leaves in its wake.
About the Author
Carol E. Miller holds a PhD in English and creative writing from the University of Wisconsin-Milwaukee. A former college professor and administrator, she currently runs a commercial copywriting business in the San Francisco Bay Area. She lives Northern California with her husband, a psychotherapist and EMDR specialist.
Praise For Every Moment of a Fall: A Memoir of Recovery Through EMDR Therapy…
"A primer on the impact of life-threatening trauma as well as the healing power of EMDR. Both author and reader emerge from the story grateful for grace." —Jessica Stern, author, Denial: A Memoir of Terror
"Miller writes with a poet's exactness and imagery about childhood, religion, love, and friendship . . . an insightful and moving book that invites the re-imagination of one's own memories." —Rene Steinke, National Book Award finalist and author, Friendswood
"Miller's journey is one of hope for all who are curious about EMDR therapy or have been burdened by unresolved trauma and afraid to find the right support." —Renee Podunovich, reneepodunovich.com
"Engaging as a Mary Karr memoir, with trauma material that resonates as powerfully as Tim O'Brien's work. The book has potential to bring real hope for recovery to those who may be hesitant to seek treatment." —Rachel Kimerling, Ph.D., clinical psychologist, National Center for PTSD
"A literary triumph, this book is essential reading for anyone who has suffered, anyone searching for a path to peace, which, if we're honest, is all of us." —Julie Barton, New York Times Bestselling author of Dog Medicine: How My Dog Saved Me From Myself
or
Not Currently Available for Direct Purchase