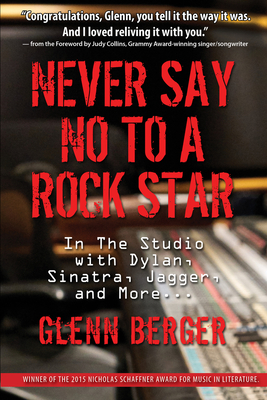 Never Say No To A Rock Star (Paperback)
In the Studio with Dylan, Sinatra, Jagger and More...
Schaffner Press, Inc., 9781943156085, 320pp.
Publication Date: July 1, 2016
* Individual store prices may vary.
Description
In 1974, at the age of seventeen, author Glenn Berger served as "Schlepper" and apprentice to the legendary recording engineer Phil Ramone at New York City's A&R Studios, and was witness to music history on an almost daily and nightly basis as pop and rock icons such as Paul Simon, Bob Dylan, Mick Jagger, Frank Sinatra, Burt Bacharach, Bette Midler, and James Brown performed their hit-making magic, honed their sound, strutted their stuff, bared their souls, and threw epic tantrums. In this memoir, full of revelatory and previously unknown anecdotal observations of these musical giants, Glenn recounts how he quickly learned the ropes to move up from schlepperhood to assistant to the tyrannical Ramone, and eventually, to become a recording engineer superstar himself. Not only is Never Say No to A Rock Star a fascinating, hilarious and poignant behind-the-scenes look of this musical Mecca, but Berger, now a prominent psychologist, looking back through the prism of his youthful experience and his years working as a counselor and therapist, provides a telling and honest examination of the nature of fame and success and the corollaries between creativity, madness and self-destruction.
About the Author
Glenn Berger, PhD was for many years in the 1970s and 80s a recording assistant and later engineer/producer for the recording studio A&R Studios. After 20 years in the music business, Glenn became a psychotherapist. Excerpts from his memoir have been published in Esquire, Rolling Stone, and SOS Magazine. He lives in New York City.
Praise For Never Say No To A Rock Star: In the Studio with Dylan, Sinatra, Jagger and More...…
"A fascinating and meticulously detailed virtual tour of life in the recording studio . . . It is also a collection of juicy thumbnail sketches of the show-biz titans . . . Dylan, Jagger, Sinatra, Fosse." —Don Shewey, journalist, author, Sam Shepard
"Glenn takes the reader to the universe of the great A&R studio in New York where some of the most memorable music of the past century was made. Congratulations, Glenn, you tell it the way it was. And I loved reliving it with you." —Judy Collins, Grammy Award-winning singer, songwriter and author
"This book is a delicious tonic for children of the 60's, 70's, 80's and children yet to come." —Kevin Odegard, guitar player on Blood on the Tracks; co-author, A Simple Twist of Fate: Bob Dylan and the Making of Blood on the Tracks
"With humor and self-deprecation, Berger shares a glimpse of life behind the scenes with artists including the New York Dolls, and Solomon Burke." —Publishers Weekly
"Berger's studio revelations can't help but be enthralling: it's only rock 'n' roll, but we still like it." —Charmaine Chan, South China Morning Post
"This is the rare 'insider' book on the rock music business in its heyday. Berger's perspective – that of a young, earnest kid from Brooklyn...is refreshingly honest, and told without guile. Highly recommended." —thevinylpress.com
"Not only are the stories he relates interesting and even somewhat scandalous (and definitely juicy), there's a special insight and humanity in this book that makes it a joy to read." —Bob Rush, forgottenhits60s.blogspot.com
"Former whizzkid engineer Glenn Berger has skilfully captured 'the entire recording experience, the people, the music, the personalities, the tension, the magic' in this finely-detailed account of his career with top NYC producer Phil Ramone." —Kris Needs, Record Collector
"The author's writing style is direct, personal and filled with honesty and sly humor. The 24/7 activity, as well as the sheer terror inherent in the recording process, are described in a straightforward, easy to gather and appreciate style." —Nicholas F. Mondello, allaboutjazz.com