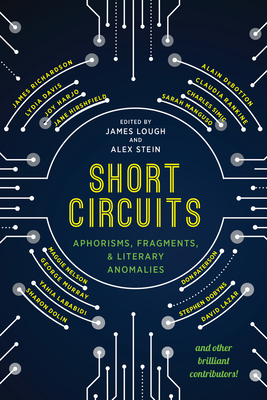 Short Circuits
Aphorisms, Fragments, and Literary Anomalies
Paperback

* Individual store prices may vary.
Description
Following up on the success of their first anthology of aphorisms, Short Flights, editors James Lough and Alex Stein have returned with a new volume that expands on the theme of aphorisms to include other short form writing and concrete poetry and prose from several of the world's leading, award-winning, and bestsellling writers in the genre, including Charles Simic, Lydia Davis, Sarah Manguso, Jane Hirschfield, Joy Harjo, Yahia Labadidi, Claudia Rankine, and Stephen Dobyns.
Praise For Short Circuits: Aphorisms, Fragments, and Literary Anomalies…
"Editors Lough and Stein prove that good things come in small packages with this collection of modern aphorisms-short but sweet nuggets of wisdom, humor, insight, and clever turns of phrase . . . something for everyone in this proverbial box of chocolates." —Publisher's Weekly, Sept. 25th

"Aphorism is thought going naked . . . It aims for transparency, and when it achieves that, as it does on every page of this wonderful collection, the result is arousing . . . surprise mingled with illumination . . . writing instructors will find the book especially useful in helping teach their students to write clearly and concisely." —Joseph Hutchison, Colorado Poet Laureate

"And you thought an aphorism was just an aphorism? This thoroughly lively volume of contemporary aphorists (a no longer secret society) suggests otherwise." —David Lazar, founding editor, Hotel Amerika and author, The Body of Brooklyn and Occasional Desire

"Short Circuits is a knockout beautiful book full of wonderful stuff that makes you laugh, smile, shake your head, admire writers, feel touched, honored, charmed, surprised, a little threatened, a lot thrilled." —Frederick Barthelme,author, There Must Be Some Mistake and Double Down; editor, New World Writing

"This book, a compilation of what feel like urgent text messages from some of the 21st century's best writers, operates as an early warning system to the future of literary art. Crucial." —David Shields, author of Reality Hunger and The Thing About Life Is That One Day You'll Be Dead

Interview with Jordan Wannemacher, cover designer for Short Circuits. —Spine Magazinehttp://spinemagazine.com

"This anthology is the kind of book that you can read quickly, as the collected works by each author are made up of fragments and micro-prose, or savor slowly and linger with each piece." —Melissa Grunow, Medium

"Following up on Short Flights, Lough and Alex Stein assembled the short-writing thoughts, creative ideas, and favorite short works of another stellar list of contributors. Careful thinkers of all stripes will find a great deal to enjoy." —Matt Sutherland, Foreword Reviews
Schaffner Press, Inc., 9781943156375, 384pp.
Publication Date: April 1, 2018
About the Author
James Lough is the author of This Ain't No Holiday Inn and Sites of Insight, which won the Publications Prize from the Colorado Endowment of the Humanities. His stories have won the 2011 America's Got Stories Award and the Frank Waters Southwestern Writing Award for short fiction. Alex Stein is the co-editor with James Lough of Short Flights and the author of The Artist as Mystic: Conversations with Yahia Lababidi and a book of aphorisms, Weird Emptiness.