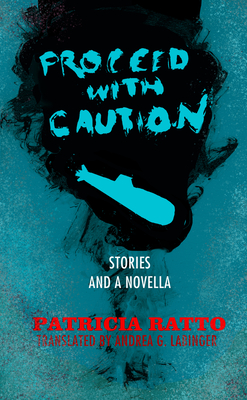 Proceed With Caution
Stories and a Novella
Paperback

* Individual store prices may vary.
Description
 In the tradition of surrealist masters Julio Cortázar and Leonora Carrington, and joining contemporaries Guadalupe Nettel (Bezoar & Other Unsettling Stories) and Samanta Schweblin (Mouthful of Birds), Argentine writer Patricia Ratto's English language debut collection, Proceed With Caution, offers an alternate reality that is both mysterious and familiar. Whether it's a malevolent act born from the paranoia of living under a totalitarian regime, or the creeping sense of dread blanketing a small whaling town, the stories in Proceed With Caution linger in the memory, and make us question where the natural world ends and the supernatural begins. In "Rara Avis" a baby bird is rescued after dropping from the sky, only to transform from vulnerable creature to life-threatening menace. In the powerfully moving title story, an old woman lives out her final days accompanied by a mysterious doglike being that provides comfort even as it devours her memories. And in the novella "Submerged," an Argentine submarine crew during the Falklands War of the early 1980s navigates its way through a claustrophobic nightmare of boredom and terror, where the very meaning of being alive is cast in doubt. Translated from the Spanish by PEN/Heim award-winner Andrea G. Labinger, Proceed With Caution is a striking collection, brimming with emotion, animal instinct, and a sense of wonder that announces the arrival of a compelling new voice in Latin American literature.
Praise For Proceed With Caution: Stories and a Novella…
"Seldom has the clandestine nature of observation been so luminous as in Patricia Ratto's excellent Proceed With Caution." —Terese Svoboda, Author of Great American Desert

"Argentinian writer Ratto's revalatory [...] English-language debut collects stories and a novella featuring intensely watchful, unassuming narrators who imbue the stories with a sense of foreboding." —Publishers Weekly

"Often eerie, sometimes bizarrely comical, other times head-shakingly disconcerting...Argentinian writer Patricia Ratto makes an engrossing English-language debut with eight stories and a novella that prove--in a word--highly unpredictable." —Terry Hong, Shelf Awareness
Schaffner Press, Inc., 9781943156849, 171pp.
Publication Date: January 19, 2021
About the Author
Patricia Ratto is an acclaimed writer from Argentina. Andrea Labinger is a translator of Spanish and South American literature.