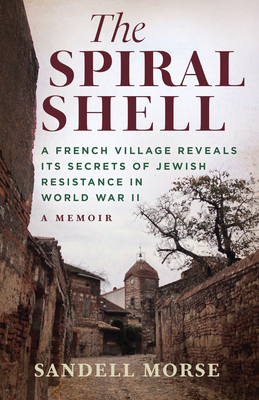 The Spiral Shell
A French Village Reveals Its Secrets of Jewish Resistance in World War II
Hardcover

* Individual store prices may vary.
Other Editions of This Title:
Paperback (4/5/2022)
Description
April 2020 will mark the 80th Anniversary of the fall of France to Nazi Germany, and the establishment of the provisional government of the Vichy state, a puppet of the Axis regime, to carry out the arrest and deportation of all Jewish civilians. In the course of her writing residency over a three-year period in the village of Auvillar, the author learns of acts of bravery and rebellion on the part of several of the Jewish families and individuals who risked their lives to save innocent refugees and children orphaned by the Holocaust, and gradually gains their trust enough for them to share the details of their harrowing experiences of rebellion and resistance. The author in turn discovers truths about her own life and Jewish heritage in America, which she now sees in the light of the bravery and selflessness of those who elected to act and not stand by idly in the face of oppression and genocide.
Praise For The Spiral Shell: A French Village Reveals Its Secrets of Jewish Resistance in World War II…
"The Spiral Shell is an evocative, probing, heartfelt memoir, as rich in character and detail as the best fiction. There are all kinds of reckonings here: personal, historical, spiritual. There is a vivid present as well as a vividly imagined past, a voice that is at turns charming, grieving, outraged and wry. Sandell Morse illuminates with wisdom and grace Eli Wiesel's timeless injunction that, 'For the dead and the living, we must bear witness.'" — Alice McDermott, Author, A Bigamist's Daughter, Charming Billy

"Stories of political resistance from previous eras have become especially urgent to me to read now. So it was a pleasure to read my friend Sandell Morse's debut memoir, out today. It's a sort of that family detective story so many of know, in one way—of someone trying to find out more about a family's heritage—and then stumbling into another story, found across the world, in France, while on a writing retreat, that provides much more than just answers. Elegant, erudite, passionate, I congratulate her on seeing this book through to print." —Alexander Chee, Author of How to Write an Autobiographical Novel

"The Spiral Shell's strength lies in what Morse pieced together about a village under occupation....Stories such as the remarkable ones she has unearthed are really the only way of doing it." —Thomas Urquhart, The Portland Press Herald
Schaffner Press, Inc., 9781943156924, 248pp.
Publication Date: April 14, 2020
About the Author
Sandell Morse's nonfiction has been noted in The Best American Essays series, been nominated for a Pushcart Prize, and won the Fourth Genre Steinberg Essay Prize.
or
Not Currently Available for Direct Purchase