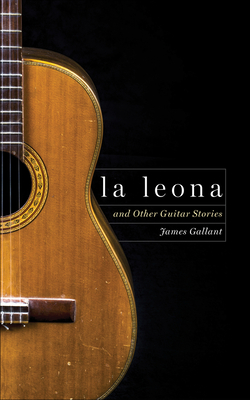 La Leona and Other Guitar Stories
Paperback

* Individual store prices may vary.
Description
James Gallant's highly imaginative story collection provides a kaleidoscopic journey through the evolution of the classical guitar and guitar music as the backdrop to the hurly-burly of western cultural history that includes whimsical cameos of historical characters such as Shakespeare, Walt Whitman, and Jean-Paul Marat. In a style that is reminiscent of Jorge Luis Borges, Italo Calvino, and Peter Cameron, these fictions make twists and turns as surprising and delightful as the music Mr. Gallant celebrates.
Praise For La Leona and Other Guitar Stories…
"Gallant captures the language, temperament and physical decay of inner cities. Through the compassionate eyes of his narrator, he shows a community of mixed class and race that work." —Joyce Dixon, Southern Scribe

"Mr. Author isn't your stock liberal-intellectual, aging hippie who wants to save the world from"the Man." All he wants is to be compassionate to society's down-and-out and live in a safe neighborhood. In the process, Gallant gives an edgy neighborhood a human face, leaving the reader to wonder if gentrification and homogeneity might be a worse assault on the senses." —Hal Jacobs, Atlanta Journal-Constitution

"Serious comedy is the hardest way to tell the truth. Gallant makes it easy to read." —Mary Hood, author of Venus is Blue

"James Gallant writes with humor, sympathy, and candor about what really happens in the American urban limbo of big and small-time swindlers chasing a dream. From con-artistry to lonely old ladies, conniving pimps, and chartreuse houses, Gallant's Atlanta is a complex and charming place worthy the legendary status it achieves through his magically affirmative writing."—Maxine Chernoff, author of Some of Her Friends That Year, and Selected Stories

"An exquisite short story collection which will charm and enlighten guitar aficionados, whether professional, amateur and in anywhere in between, and probably quite a few "civilians" as well--both now and for years to come." —Charles Duncan, Author of The Art of Classical Guitar Playing and Classical Guitar 2000 

"The author has a beautiful writing style that, like his subjects, is musical in itself–– graceful phrases with imaginative textural crescendos, climaxes and cadences." —Frank Koonce, Professor Emeritus, Arizona State University School of Music

"Gallants literary virtuosity is shown in his ability to align the stories he chooses to highlight with the pivotal moments in world history...Gallant animates the full experience of the ambitious guitarist throughout many different regions, eras, and cultures." —Zachary Seifert-Ponce, Classical Guitar Teacher, Performer, and Composer 

"In James Gallant's erudite story collection, musicians witness European history from the sidelines. These intricate stories traverse medieval Spain, Elizabethan Denmark, and revolutionary France. Details about guitars, and lavish backgrounds result in dense narratives that favor impressions of periods." —Karen Rigby, Foreword Reviews 
Schaffner Press, Inc., 9781943156948, 178pp.
Publication Date: July 7, 2020
About the Author
James Gallant is an Ohio native and has lived in the South for over thirty years. He plays classical guitar and is the author of Verisimilitudes: Essays and Approximations, The Big Bust at Tyrone's Rooming House: A Novel of Atlanta, and Whatever Happened to Ohio?