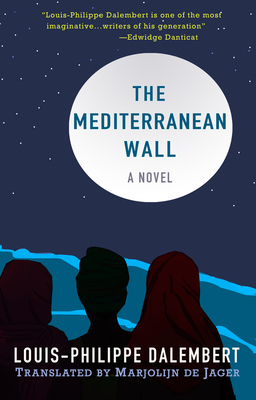 The Mediterranean Wall
A Novel
Paperback

* Individual store prices may vary.
Description
In this deeply hopeful and viscerally detailed novel, award-winning Haitian author Louis-Philippe Dalembert (The Other Side of the Sea) has provided a Tolstoyan narrative of the contemporary immigrants' exodus from war, famine, poverty, criminality and injustice to a better life across the Mediterranean Sea. Following in intimate detail the lives of three women from disparate religions and cultures, and nations--Nigeria, Eritrea, and Syria--Dalembert compassionately depicts these three women and the bond they form together in their mutual struggle to escape to Europe via an overcrowded, dilapidated boat across the sea, the metaphorical wall between their former lives and the future. Certain to appeal to readers of literature of migration and such recent fiction as "Behold the Dreamers" and "The Lost Children Archive."
Praise For The Mediterranean Wall: A Novel…
"Louis-Philippe Dalembert is one of the most imaginative writers of his generation"  —Edwidge Danticat, author of Everything Inside and Brother, I'm Dying
 

"It may seem counterintuitive, but on second thought, who better to write from inside the Mediterranean refugee crisis than a Haitian novelist living in France? And Louis Philippe Dalembert has done it beautifully here." —Madison Smartt Bell, National Book Award Finalist

"Dalembert is a world-class poet and chronicler not only of the African diaspora but of the radical uprootedness of people everywhere. His work is the work of witness, infused with love and admiration for the millions of sufferers who endure the violent disruptions of our time with dignity and perseverance and a love for one another that is equal to his own." —Russell Banks, Pulitzer Prize-nominated author, Continental Drift and Foregone
Schaffner Press, Inc., 9781943156962, 352pp.
Publication Date: June 15, 2021
About the Author
Louis-Philippe Dalembert (born December 8, 1962 in Port-au-Prince, Haiti) is an award-winning Haitian poet and novelist. He writes in both French and Haitian creole. His works have been translated into several languages. He now divides his home between Berlin, Paris and Port-au-Prince. Born in Indonesia (1936), raised in The Netherlands, and residing in the USA since the age of 22, Marjolijn de Jager earned a PhD. in Romance Languages and Literatures from UNC-Chapel Hill in 1975.  She translates from both the Dutch and the French. Francophone African literature, the women's voices in particular, have a special place in her heart. Among her honors are an NEA grant, two NEH grants and, in 2011, the annually awarded ALA Distinguished Member Award received from the African Literature Association for scholarship, teaching, and translations of African Literature.