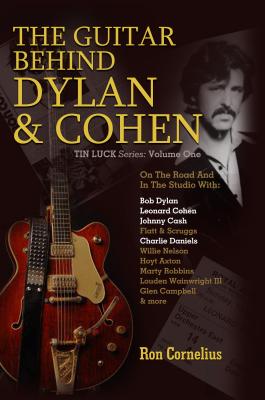 The Guitar Behind Dylan & Cohen (Tin Luck Series
Volume One)
Hardcover

* Individual store prices may vary.
Description
For many years, over, and over, people have told me that I should write a book about my life experiences in the music industry. Never gave that much thought until, at a point in time, the concept of individual "short-stories" came to mind. To write a book that's not a "tell-all" but one of true experiences that could appeal to music lovers and fans the world over. A book for people interested in knowing what it would be like to run in the fast lane as a guitar player.   To record with Bob Dylan, Leonard Cohen, Johnny Cash, Lester Flatt and Earl Scruggs, Charlie Daniels, Willie Nelson, Hoyt Axton, Louden Wainwright and on and on. To take the stage of sold out venues like The Royal Albert Hall in London, The Vienna Opera House, The Olympia Theater in Paris, or Tivally Gardens in Copenhagen. To be part of a headline act at big concerts with thousands in attendance—and even the ultimate challenges like The Isle Of White with over 600,000 people in the audience.   But more over, and especially in my case, it's the life events that have gone on around all of this that can be unbelievable—unbelievable, but absolutely true.   The title of this book, "The Guitar Behind Dylan and Cohen," was the title of a two-page newspaper article that was written about me. I chose to use it because the stories (in this book) take place during the portion of my career at which time I was simultaneously recording albums with Bob Dylan and recording albums and touring with Leonard Cohen.
Most of the people in this book are known to be, and recognized as, great songwriters as well as being artists. However, Cohen and Dylan, and their use of music as a way to speak to the masses are a very different world. Being part of all that led me in and out of some of the dambdest situations imaginable.   As I share these stories with you, and as you read, put yourself in my shoes and let yourself become … the guitar behind Dylan and Cohen.
Praise For The Guitar Behind Dylan & Cohen (Tin Luck Series: Volume One)…
"Ron Cornelius, Guitar Wizard who Toured and Recorded With Bob Dylan, Leonard Cohen. and Johnny Cash, Tells What It Was Really Like in Must-Read Book, The Guitar Behind Dylan & Cohen By PHIL SWEETLAND Music & radio contributor  NASHVILLE - Bob Dylan and Leonard Cohen are two of the most important but enigmatic singers and songwriters in pop history, and both were brilliant enough to hire many of the greatest sidemen of their times.  One session player Cohen and Dylan both treasured and still work with is the guitar maestro Ron Cornelius, who played on seven multi-platinum Dylan albums including Self Portrait and New Morning and four more from Cohen, notably Songs Of Love And Hate and Songs From A Room, all the while working as bandleader for seven of Leonard's world tours in the late Sixties and early Seventies.  Now Ron has collected many of his fondest memories, road adventures, and first-person Cohen and Dylan insights in a book called The Guitar Behind Dylan & Cohen that will be treasured by fans of all ages who have loved and studied the music and lives of these great artists for nearly 50 years.  In her foreword to the book, the British journalist and Cohen biographer Sylvie Simmons recalls the day she received the draft of Ron's book and started reading his recollections. 'I was rapt,' Simmons writes, 'that's the kind of stories.'  So many of the rock and pop heroes of the Sixties and Seventies are either now dead or were so wasted in those days that they remember nearly nothing. Cornelius, however, had a love for nothing stronger than cognac and fine cigars, and his recollections remain sharp as a tack.  'You never knew what Leonard Cohen might do or say that could cause things to get very weird,' Ron writes. One time, Leonard performed an entire encore while standing on his head, and at another show he caused a near riot at a show in Hamburg by suddenly doing a Nazi salute.  Another fascinating insight Cornelius gives us is this: 'It was always strange to me that whenever we toured outside the United States, Leonard was number one in the people's eyes, and Dylan was number two. However, once back in the USA, Dylan was always number one and no one even seemed to know who Leonard was,' Ron writes.  Nashville in the late 1960s and early 1970s could be a tough place for longhaired California musicians like Cornelius, but when he came here to record with Dylan, the equally eccentric Dylan producer Bob Johnston, and session superstars including Charlie Daniels and Kenny Buttrey, Ron knew they were making music history.  'Dylan's song-by-song approach was nothing like I'd been around and took getting used to,' Cornelius recalls. Dylan would vary tempos markedly between takes, a real challenge for the musicians, but Ron notes that 'the waterfall of material coming from Dylan was constant and overwhelming.'  Bob loved Ron's guitar solo on 'New Morning,' recorded at CBS Studios in New York, and asked Cornelius if there was anything he could get Ron to return the favor. After everyone else had left, Cornelius asked Dylan to sit down at the piano with a guitar on his lap and play Ron's favorite Dylan songs as he lay on the floor. For the next half hour, Cornelius lay down next to the piano as Dylan gave him a one-on-one concert of Ron's favorite Bob Dylan compositions.  There are tales of the European tours with Cohen, when they played not only at legendary concert halls but at insane asylums, many of which were more like prisons. There were road pranks all over the world played by Johnston, Charlie Daniels, and Cornelius, sometimes involving airport security and other times involving loaded guns pointed at the boys in the band.  Cornelius also recollects the writing process he contributed to several famous songs, including Cohen's 'Chelsea Hotel #2,' a story song about Leonard, an unmade bed, and Janis Joplin: and 'Jerusalem,' which Ron wrote while he was touring the Holy City and later became a breakout hit for the Israeli superstar Esther Ofarim.  Finally, Ron takes us inside San Quentin Prison with Johnny Cash for Johnny's legendary live recording there in the winter of 1969. Of all the musicians and producers on hand, Cornelius was likely the only one who had ever been to Quentin before, visiting convict friends of his from his tough teen years in the Bay Area town of Richmond.  Do yourself a favor. Get out those Dylan and Cohen albums, pick up a copy (or several copies) of Ron Cornelius's The Guitar Behind Dylan & Cohen, and read as you listen to learn what you never knew about the records and the artists you thought you knew so well." — Phil Sweetland, The New York Times
Pilot Communications Group, 9781943157297, 144pp.
Publication Date: January 1, 2017
About the Author
As a teenage guitarist in California, Ron Cornelius cut his musical teeth while backing a list of artists that reads like a "Who's Who" from the 1950s and 1960s. Chubby Checker, Martha and the Vandellas, Smoky Robinson & and the Miracles, Jan & Dean, and Bobby Rydell were among those that young Cornelius shared a stage with, in addition to many other major artists, such as Glen Campbell, Sonny & Cher, Jackie Wilson, The Sherrells, Gene Chandler, and Mary Wells, as they toured his home state. At age 16, Ron had a major record deal with his own group "The Untouchables" on Dot Records, a major label at the time. Recent years have witnessed major label recording contracts for acts that Ron has signed, developed, and produced, such as Miko Marks' recent releases. Miko is the first African-American female country artist to win bonafide achievement awards in the history of country music (New Music Weekly's Female Country Vocalist of the Year for 2006). The Cornelius Companies and Gateway Entertainment, Inc. continue their success because of Ron's knowledge and vast experience in the industry, as well as a lot of hard work and integrity.
or
Not Currently Available for Direct Purchase