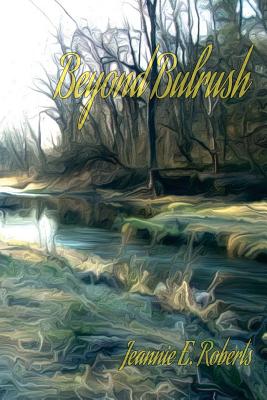 Beyond Bulrush (Paperback)
Lit Fest Press / Festival of Language, 9781943170111, 100pp.
Publication Date: December 4, 2015
* Individual store prices may vary.
Description
With carefully tuned eye and ear, Jeannie E. Roberts places us, threading the names of very real streets, parks, trails, and towns of her childhood and adult life among poems that pop and snap with rhythm, rhyme, and humor. This book is rife with "hubbub/hoopla, hobnob/...ballyhoo in hoots and hollers" and chockfull of the flora and fauna of her Wisconsin home. Yet there is a more personal story to be found in these pages as well. "And what," she asks a tree frog (and the reader), "have you learned/from your crouch/and camouflage?" Beyond Bulrush makes clear that whether she faces the real stories of the past or the unknowns of tomorrow, Roberts has learned to celebrate and armor herself with song, the "drills/thrills//spilling notes/of musical flourish."--Sara Sadie (Sarah Busse), Co-Editor, Cowfeather Press and author of Somewhere Piano These poems provide a lyrical vocabulary for the seasons of a closely and passionately observed place, and in doing so, remind us of the power of the well observed life, with its ongoing seasons, and how poetry, when it accurately reflects the world around us, reinforces our connections to that world.--Max Garland, author of The Postal Confessions and Hunger Wide as Heaven, and Wisconsin's Poet Laureate 2013-2014 A collection for the heart and the senses, reveling in sounds, sights, and scents, wryly declaring life lessons, sinking into grief, letting nostalgia slowly slip through the fingers. The gleeful wordplay, natural rhythms, and quiet musings will open your soul to the significance of each moment.--Rachel Shields, editor, Skylight Paths Publishing Thickly textured, lush, the world of these poems, as if lit from within, lovely to say and hear, to ponder and dwell.--Bruce Taylor, author of The Longest You've Lived Anywhere: New and Selected Poems 2013.
About the Author
Jeannie E. Roberts lives in an inspiring rural setting near Chippewa Falls, Wisconsin. She is the author of Nature of it All, a poetry chapbook (Finishing Line Press, 2013), and the author and illustrator of Let's Make Faces!, a children's book (Rhyme the Roost Books, an imprint of JR Creative Studios, 2009). Born in Minneapolis, Minnesota, her work appears in print and online literary journals and anthologies, including Blue Heron Review, Festival of Language's Festival Writer, Misty Mountain Review, Off the Coast, Quill and Parchment, Verse Wisconsin, the Wisconsin Fellowship of Poets' Wisconsin Poets' Calendar. She draws, paints, and often photographs her natural surroundings. Learn more about Jeannie at www.jrcreative.biz.