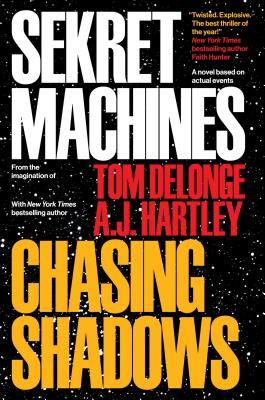 Sekret Machines, Book 1 (Hardcover)
Chasing Shadows
To the Stars, 9781943272150, 704pp.
Publication Date: April 5, 2016
* Individual store prices may vary.
Description
Praised as "an exhilarating thrill ride" that may never have you looking at the night sky the same way again, Chasing Shadows is the first book in the multimedia Sekret Machines franchise that will reveal fascinating secrets surrounding the true, well-documented events of Unidentified Aerial Phenomenon. Written by award-winning creator Tom DeLonge and NYTimes bestselling academic AJ Hartley in a powerful collaboration with top government advisors that keep the truth on course in this historical thriller. For those who know... that something is going on... The witnesses are legion, scattered across the world and dotted through history, people who looked up and saw something impossible lighting up the night sky. What those objects were, where they came from, and who--or what--might be inside them is the subject of fierce debate and equally fierce mockery, so that most who glimpsed them came to wish they hadn't. Most, but not everyone. Among those who know what they've seen, and--like the toll of a bell that can't be unrung--are forever changed by it, are a pilot, an heiress, a journalist, and a prisoner of war. From the waning days of the 20th century's final great war to the fraught fields of Afghanistan to the otherworldly secrets hidden amid Nevada's dusty neverlands--the truth that is out there will propel each of them into a labyrinth of otherworldly technology and the competing aims of those who might seek to prevent--or harness--these beings of unfathomable power. Because, as it turns out, we are not the only ones who can invent and build...and destroy. Featuring actual events and other truths drawn from sources within the military and intelligence community, Tom DeLonge and A.J. Hartley offer a tale at once terrifying, fantastical, and perhaps all too real. Though it is, of course, a work of... fiction?
About the Author
Tom DeLonge is an award-winning producer, director and multi-platinum recording artist best known as the lead vocalst in blink-182 and Angels & Airwaves. He lives in San Diego, California where he runs his entertainment production company To The Stars.. that focuses on science-fiction transmedia storytelling. A.J. Hartley is the New York Times and USA Today bestselling author of books in a variety of genres and was born and raised in Lancashire in Northern England, . AJ's stories are driven by mystery and danger but also reflect his abiding interest in archaeology, history, and foreign travel. As an English major at Manchester University he took extra classes in Egyptology and got a job working on a Bronze Age site just outside Jerusalem. Since then, life has taken him to many places around the world, and though he always leaned more towards the literary than to the strictly historical, his fascination with the past continues unabated. He has an M.A. and Ph.D. in English literature from Boston University, and he is the Russell Robinson Professor of Shakespeare Studies at the University of North Carolina, Charlotte, and works as a scholar, screenwriter, dramaturg and theatre director.
or
Not Currently Available for Direct Purchase