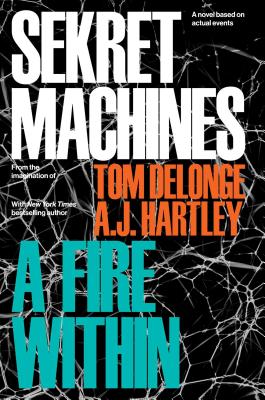 Sekret Machines Book 2 (Hardcover)
A Fire Within
To the Stars, 9781943272341, 688pp.
Publication Date: September 18, 2018
* Individual store prices may vary.
Description
Tom DeLonge—award-winning creator and accomplished researcher, who made history by releasing the first official military footage of a UFO that has been through the US government declassification review process—and New York Times bestselling author A.J. Hartley continue their thrilling Sekret Machines saga of archeological adventure, government conspiracy, historical mystery, and unimaginable technology with Sekret Machines Book 2: A Fire Within.

They have witnessed what is beyond the bounds of possibility. Lights sailing across Nevada's desert night sky in fluid and rapid motions that are impossible for even the most technologically advanced aircraft. They have encountered those responsible for the unexplained. Men in black suits, white lab coats, and military uniforms who do not want their secrets exposed.

Brought together by fate—or phenomena—heiress Jennifer Quinn, journalist Timika Mars, pilot Alan Young, and ex-Marine Barry Regis are bonded by the incidents they've witnessed, hunted by agents of a wealthy corporate cabal desperate for unimaginable power, and possessed of extraordinary abilities they do not understand, much less control.

Now, they're on a mission of their own. As Alan and Barry test the limits of their strange gifts inside the military complex known as Dreamland, Jennifer and Timika begin a quest to locate an ancient tablet that may hold the answers to humanity's greatest question.

Are we alone in the universe?

Based on the accounts of credible UAP observers drawn from expert sources within the scientific, military and intelligence communities, Sekret Machines: A Fire Within is the second fiction book within a multimedia project that has become part of the most ambitious investigation of the phenomenon in history.
About the Author
Tom DeLonge is an award-winning producer, author, platinum recording artist, researcher and entrepreneur from San Diego, CA. Today Tom, with his company To The Stars, produces original content that aims to inspire a newfound appreciation of the profound, yet unresolved, mysteries involving science and the universe through entertainment directly informed by science. His first multi-media franchise Love, told the story of an isolated astronaut on the International Space Station and included a double album by his band Angels And Airwaves with the feature film premiering in 600 theatres across the United States. His next franchise Poet Anderson was inspired by a dream study conducted at Stanford University and spanned an award-winning short film, a chart-topping album, acclaimed comic book series, graphic novel and a YA science fiction novel co-written with NYTimes Bestselling author Suzanne Young. Most recently he is working on Sekret Machines which spans both sci-fi fiction and nonfiction thesis informed by unprecedented access at the highest level of the government and science to uncover information about the UFO phenomenon with renowned authors AJ Hartley and Peter Levenda. His Sekret Machines work has won him the 2017 UFO Researcher of the Year award.