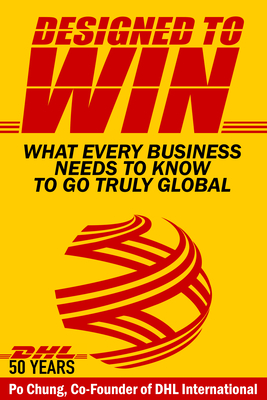 Designed to Win (Paperback)
What Every Business Needs to Know to Go Truly Global (Dhl's 50 Years)
Leaders Press, 9781943386505, 248pp.
Publication Date: November 26, 2019
* Individual store prices may vary.
Description
ARE YOU READY TO DESIGN A GLOBAL NETWORK BUSINESS?
Designed to Win
, written by Po Chung - the co-founder of DHL - reveals the industry secrets they used to build a worldwide network that now operates in more than 200 countries and territories
Warning
Reading this book and following the advice within can result in designing an industry that doesn't yet exist
Start reading now to
Discover how caring about things bigger than ourselves drives effective leadership;
Find out how a unique marriage between Eastern and Western values inspired an inter-cultural leadership model;
Discover why you should address leadership needs rather than management needs;
Learn how to design, develop, and lead a global service network
Understand why superior leaders practice noble visions, competence, character and care;
Learn how to articulate human - and company - actualization;
Figure out how better followers and leaders build more competitive networks;
Discover how happy people led by happy leaders run like a well-oiled machine;
...and much more
Designed to Win How to Build and Lead a Thriving Global Network Business
answers the question: How do I design a global company? Grab your copy now and start designing your company to operate worldwide.
About the Author
Mr. Po Chung is the co-founder of DHL International. From its inception in 1972, the DHL worldwide network has now grown to operate in more than 220 countries and territories. During DHL's international expansion, Mr. Chung provided much of the corporation's international philosophy and human resource culture of network service leadership insights. Especially close to his heart and current efforts are his two foundations, the Po & Helen Chung Foundation -- created to promote quality education and educational reform in Hong Kong -- and the Creative Initiatives Foundation, which encourages creative efforts on the part of nonprofit organizations and assists them in using proven business practices. In his leisure time, Mr. Chung vigorously pursues his avocations as a Chinese calligrapher, a painter, a voracious reader, a classical music enthusiast, a Japanese whisky collector, a photographer, and an avid student of personal development with collections at the Bodleian Library of the University of Oxford and the Library of The University of Hong Kong.