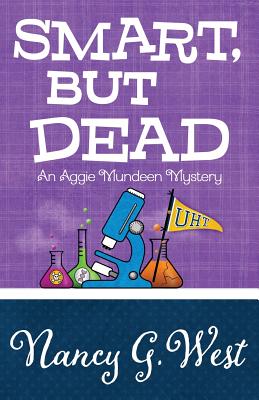 Smart, But Dead
Paperback

* Individual store prices may vary.
Description
LEFTY AWARD NOMINATED SERIES "Hurrah for Aggie Mundeen, an effervescent heroine who finds trouble wherever she goes even when the initial pursuit is purely intellectual. Aggie's pluck, humor, intelligence and loving heart will always keep her young and always make readers smile." - Carolyn Hart, Agatha Award-Winning Author of Ghost to the Rescue "Smart. Aggie Mundeen is smart. But. But she's also a little clumsy, irrepressible, and irresistible. Dead. She might well end up dead if she continues nosing around the university where her questions are not wanted. Smart, But Dead is the perfect combination of brains and heart. A tight mystery, an irrepressible heroine, and superb writing." - James W. Ziskin, Anthony Award-Finalist of No Stone Unturned "Smart, But Dead features an impetuous, warm-hearted heroine, blessed with an insatiable curiosity, passion for learning and an unquenchable zest for life." - Mystery People "Will keep you guessing until the last page. Very well-written and excellent storyline. Highly recommended " - Obsessed Book Reviews Skirting forty and appalled by the prospect of descending into middle-age decrepitude, Aggie Mundeen blasts off to the local university to study the genetics of aging. In addition to providing youthful hints for readers of her column, "Stay Young with Aggie," Aggie is doggedly determined to stay young. Despite conflicts with her professor, she learns about the Human Genome Project and DNA. When she discovers a dead body, Detective Sam reminds her not to "help" with the investigation. But dangerously curious and programmed to prod, she races to solve the crime, winds up the prime suspect, and is on target to become the next campus corpse. Related subjects include: cozy mysteries, women sleuths, murder mystery series, whodunit mysteries (whodunnit), amateur sleuth books, book club recommendations, Southern humor, Southern living, humorous murder mysteries. Books in the Aggie Mundeen Humorous Mystery Series: -FIT TO BE DEAD (#1) -DANG NEAR DEAD (#2) -SMART, BUT DEAD (#3) Part of the Henery Press Mystery Series Collection, if you like one, you'll probably like them all... Author Bio: While writing her award-winning suspense novel, Nine Days to Evil, a funny thing happened. Supporting character Aggie Mundeen demanded that Nancy write about her. Aggie's first caper, Fit to Be Dead, was Lefty Award Finalist for Best Humorous Mystery. Dang Near Dead was named a "Must Read" by Southern Writers Magazine. In Smart, But Dead, Aggie learns genetic secrets of staying young and critical lessons about love and about staying alive.
Henery Press, 9781943390250, 246pp.
Publication Date: November 17, 2015
or
Not Currently Available for Direct Purchase