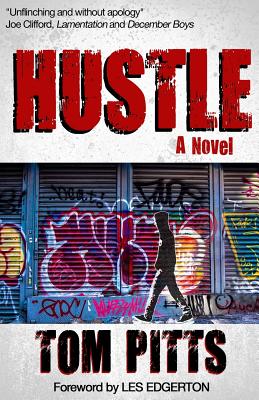 Hustle (Paperback)
Down & Out Books, 9781943402199, 264pp.
Publication Date: April 21, 2016
Other Editions of This Title:
Paperback (2/23/2014)
* Individual store prices may vary.
Description
Two young hustlers, caught in an endless cycle of addiction and prostitution, decide to blackmail an elderly client of theirs. Donny and Big Rich want to film Gabriel Thaxton with their cell phones during a sexual act and put the video up on YouTube. Little do they know, the man they've chosen, a high-profile San Francisco defense attorney, is already being blackmailed by someone more sinister: an ex-client of the lawyer's. A murderous speed freak named Dustin has already permeated the attorney's life and Dustin has plans for the old man. The lawyer calls upon an old biker for help and they begin a violent race to suppress his deadly secret. ***Praise for HUSTLE*** "Tom Pitts' HUSTLE is the kind of in-your-face street level noir that American crime fiction hasn't seen in a long, long time. Frankly, not many writers have either the balls or the talent to pull it off. Pitts has both in spades. Bold, honest and daring." -Todd Robinson, The Hard Bounce "Tom Pitts is part of a rare and dying breed, a self-taught, instinctual writer whose tight, pitch-perfect prose was honed the old-fashioned way by reading and walking the seedy alleys of life. HUSTLE is quick-paced and dark, at once sad and funny as hell, with a Jim Thompson-esque cast of characters and echoes of Bukowski in its poetic sensitivity. Pitts' own experiences on the streets of San Francisco make HUSTLE a novel unlike any you've read before. I love this book." -Ro Cuzon, Under the Dixie Moon "What makes HUSTLE such a remarkable book-and Tom Pitts such a formidable writer-is the juxtaposition of literary tradition versus street ethos. HUSTLE pushes boundaries and challenges the peripheral but not at the expense of story, which zips along the dirty streets of San Francisco to tell a terrifying tale, the likes of which, I promise you, you've never heard before. This is in-the-trenches, first-hand, in-your-face reportage, from a who knows what it takes to survive those streets. Unflinching and without apology." -Joe Clifford, Junkie Love and Lamentation "HUSTLE is a smart and deceitful novel that can't wait for you to judge it. It presents itself with a raw, unadorned prose, but it's way more than meets the eye. Tom Pitts is a wicked storyteller. He barely arrived in the publishing game, but expect him to become one of these cult authors with a rabid fanbase." -Benoit Lelievre, DeadEndFollies.com "HUSTLE in an insane mind-fuck." -Liam Sweeny, Welcome Back Jack.