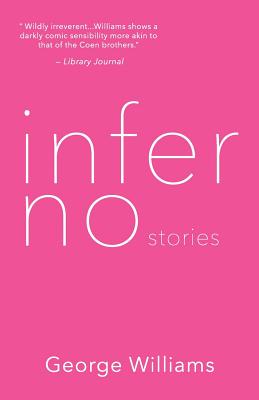 Inferno Stories
Paperback

* Individual store prices may vary.
Description
With inferno stories, George Williams returns with another original and electrifying collection. Two home invaders put on trial a descendant of San Juan Capistrano's oldest families for the sins of his ancestors. A man encounters a cult that mistakes him for both savior and sacrifice. Two screenwriters in search of a story follow a strange man from Istanbul up the coast of Italy to Duino, where he carves into a tree a baffling equation that changes their marriage forever. A fired White House speechwriter travels south along the East Coast in stolen rowboats with a woman he meets under a D.C. bridge, leaving a comedy of chaos in their wake. In the title story, a retired sex worker in L.A. turned trickster and avenging angel settles dozens of scores with methods of punishment both ancient and modern. Inferno takes the reader from east Texas to Catalina Island, from ancient Rome to cedar forests of Provence, from the low country of Savannah to the burning hills of Southern California. Brazen bulls and kamikaze pilots, karaoke and crucifixions, the canals of Venice and the killing fields of the I-45 corridor all figure in these twelve superbly crafted stories written in a subtle and daring range of voices and styles. Williams opens the door onto a world of uneasy inhabitants, credulous creatures who want the truth they already know they cannot bear, characters fully human in their heartbreak, cruelty, and capacity for self-deception. ***Praise for George Williams*** "George Williams writes with an electric energy, unpredictable inventiveness, and deft ear for dialogue that makes him one of the most exciting and compelling writers of his generation." -Richard Burgin, author of Rivers Last Longer and Shadow Traffic "...shows a darkly comic sensibility more akin to that of the filmmaking Coen brothers (think Barton Fink) than to more obvious literary influences...Recommended to adventurous readers, who will surely enjoy Williams's wildly irreverent inventions." -Library Journal "Williams paints a grotesque picture of modern America, one filled with witches and terrorists, con men and succubi. Actually, I don't know if there are any actual succubi in the pages . . . but it sure feels like there should be." -Popmatters "George Williams, a self-described "reformed anarchist," writes a hyper-controlled, smart and taut prose that goes beyond the spare exactness of the Moderns. The sentences seem so easy, but their accretion is sly: William's prose unveils a tough and dense vision, the steady shock of a live snapping wire." -Stephen D. Geller.
Down & Out Books, 9781943402243, 244pp.
Publication Date: April 4, 2016