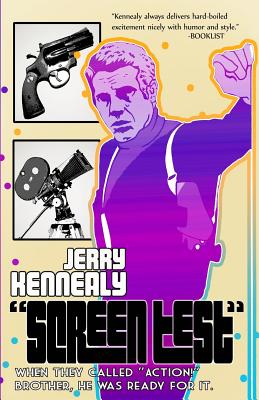 Screen Test
Paperback

* Individual store prices may vary.
Description
In April of 1968 Steve McQueen arrives in San Francisco to film Bullitt. Rough-and-tumble SFPD Inspector Johnny O'Rorke, aka The Fixer, is the department's Executive Protection Officer. His job is to make sure that visiting celebrities are well taken care of. O'Rorke is instructed to take special care of McQueen; the city's movers and shakers are hoping to develop San Francisco into Hollywood North. McQueen takes a liking to O'Rorke, and when Russ Cortig, a member of his film crew, is busted at a wild Haight Ashbury party, he asks O'Rorke to try to have the charge dismissed. Fixing Cortig's arrest sheet is a minor problem, but it leads O'Rorke into a tangled web of intrigue and corruption that includes the murder of one of his longtime informers, a crossdresser who goes by the name of Vanessa the Undresser, tangling with a Chinatown drug lord, being shot at by a sadistic Soviet hit man, going up against a wealthy former Russian Mafia leader now living in San Francisco, dealing with a vicious local gangster, Alec Zek, aka The Swine, and a chasing after a priceless blue diamond known as the Stalin Blue. If that isn't complicated enough, O'Rorke breaks into a real sweat when McQueen asks him to make a screen test for a part in Bullitt. ***Praise for Jerry Kennealy*** "Kennealy always delivers hard-boiled excitement nicely with humor and style." -Booklist "Kennealy's characters, combined with his seasoned ability to weave several plot elements into a smooth whole, make his books stand out in the crowded thriller genre." -Publisher's Weekly "Kennealy's nicely crafted stories always hold my interest. Never a wasted word." -San Francisco Chronicle.
Down & Out Books, 9781943402274, 318pp.
Publication Date: June 26, 2016