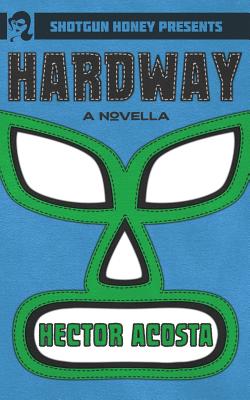 Hardway
Paperback

* Individual store prices may vary.
Description
Fifteen-year old Spencer loves professional wrestling. It's the reason why he, along with his older brother Billy, started their very own wrestling promotion in their Dallas apartment complex. The fact it puts Spencer closer to Tori, Billy's girlfriend and the only girl either boy knows who can take a chair shot to the head, doesn't hurt. It isn't long before RBWL-The Royal Brooks Wrestling League-have a rival in Woodland Terrace, a nearby apartment complex with their own wrestling promotion run by Eddie Tornado, an unhinged teenager with a connection to Tori and a hard-on to see Spencer and Billy fail. When Spencer breaks into Eddie's home and steals a gym bag he believes holds Woodland Terrace's championship belt, the feud between teenagers and promotions escalates. Before long, Spencer will find the world of professional wrestling can be more real and dangerous than anything seen on television. Praise for Hardway
"Hardway hits like a chair to the back of the head, but underneath all the bone-cracking action there's also a surprisingly sweet story about a boy trying to make his way in the world. If you're a fan of noir or wrestling - or both - this is one show you'll want to buy a ticket to."
--Nick Kolakowski, author of A Brutal Bunch of Heartbroken Saps "Witty, touching, and as melodramatic as any classic pro wrestling story, Hardway stands as an excellent debut from Hector Acosta."
--Angel Luis Col n, author of No Happy Endings and The Fury of Blacky Jaguar "Hector Acosta delivers a fitting tribute to the passion of pro wrestling. Parts coming-of-age, crime, and nostalgia - with a bit of an 80's vibe to boot - Hardway hits all the right notes."
--Christopher Irvin, author of Burn Cards and Safe Inside the Violence "A novella that hits you where it hurts, forces you to grapple with your desires and defeat, but ultimately leaves you panting and begging for more."
--D.G. Sutter, author of La Maquina Oscura
Shotgun Honey, 9781943402519, 130pp.
Publication Date: February 10, 2017