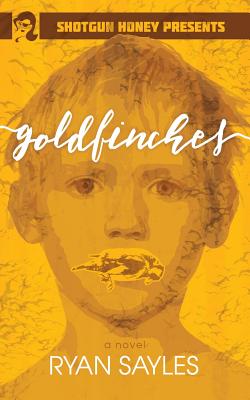 Goldfinches
Paperback

* Individual store prices may vary.
Other Editions of This Title:
Paperback (5/2/2016)
Description
Family man Carl, with his wife and daughter, are on their way check on his young son who had been hospitalized for an ear infection complicated by the boy's Type 1 Diabetes. Stopped at a light they are confronted by a gunman who pulls Carl from the vehicle, stealing the vehicle and his family with it. Desperate, Carl, will do anything to save his family, even commit a carjacking himself. Carl finds himself chasing after his family, being chased by the police, and confront the reason for this random act of violence. When all seems lost, Carl finds a reason to believe, and finds himself amidst a conflict of good and evil. Praise for GOLDFINCHES: "A man watches helplessly as his car is hijacked and driven off with his wife and daughter imprisoned inside. And, then; the nightmare accelerates into warp-speed unspeakable horror. Ryan Sayles has delivered yet another masterpiece in his newest novel, Goldfinches. This guy just keeps getting better and better Take my advice and read this book with all the lights on..." -Les Edgerton, author of The Rapist, The Bitch, and The Genuine Imitation Plastic Kidnapping "No one does fractured domestic noir like Ryan Sayles. And Goldfinches finds him mining that dysfunction harder and fiercer than ever. Shattering domestic bliss with pulse-pounding, pedal-to-the-metal action. Think Liam Neeson and his special set of skills-only jacked up on meth with stronger moonshine and more vicious complications." -Joe Clifford, author Lamentation and Junkie Love "Take the emotional grittiness of Breakdown, turn the violence dial to eleven, throw in a healthy dose of desperation multiplied by having kids involved, and you're on your way to something akin to Ryan Sayles' Goldfinches. This is a brutal, tense, fast-paced ride full of the relent- less brutality and knack for action that have made Sayles a household name for fans of great crime fiction, and this vicious ride may just be his best one yet." -Gabino Inglesias, author of Zero Saints and Hungry Darkness "Ryan Sayles writes like he's got an angel on one shoulder and a fallen angel on the other. Here's hoping Ryan keeps working it out on the page...and doesn't make much progress." -Jedidiah Ayres, author of Fierce Bitches and Peckerwood
Shotgun Honey, 9781943402731, 244pp.
Publication Date: June 11, 2017
About the Author
Ryan Sayles is based in the Midwest. His hardboiled private detective series featuring Richard Dean Buckner is forthcoming through Down and Out Books. The first two novels, Subtle Art of Brutality and Warpath are available from Down and Out Books. His short story collection, That Escalated Quickly! is out through Zelmer Pulp. His chapbook Disordered Mullets was released by Weekly Weird Monthly. His Buckner novella Disco Rumblefish was published by All Due Respect Books as part of the Two Bullets Solve Everything split with author Chris Rhatigan. Ryan's short fiction has been widely published online, in anthologies and in print. He's been included in the Anthony-nominated Trouble in the Heartland: crime fiction inspired by the music of Bruce Springsteen, as well as Shotgun Honey, Crime Factory and more. Ryan is a founding member of Zelmer Pulp, a writer's group dedicated to genre fiction. Their multiple publications span numerous brands of fiction including zombies, science fiction, westerns and more. He may be contacted at www.vitriolandbarbies.wordpress.com