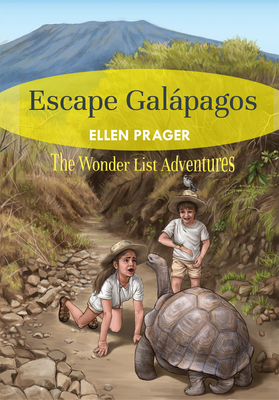 Escape Galápagos (Wonderlist Adventures) (Paperback)
Tumblehome, Inc., 9781943431557, 180pp.
Publication Date: October 1, 2019
* Individual store prices may vary.
Description
Before she died, Ezzy Skylar's mother made Ezzy's father promise to take his two children on trips to some of the world's most exotic places, starting with the Galápgos Islands. There's just one problem: while her little brother Luke is in animal heaven, Ezzy has a paralyzing fear of wild animals. That's why she's aboard the cruise vessel when hijackers take over. Forced to find depths of bravery she never knew she had, Ezzy has to flee across an island with her brother and seek to rescue a ship full of tourists under siege.
About the Author
Ellen Prager is a marine scientist and author, widely recognized for her expertise and ability to make science entertaining and understandable for people of all ages. She currently works as a freelance writer, consultant, and science advisor to Celebrity Cruises in the Galápagos Islands. She was previously the Chief Scientist for the Aquarius Reef Base program in Key Largo, Florida and the Assistant Dean at the University of Miami's Rosenstiel School of Marine and Atmospheric Science.
Praise For Escape Galápagos (Wonderlist Adventures)…
"A trip to the Galápagos can be the adventure of a lifetime, but for Ezzy Skylar, it provides more adventure than she would ever want... Marine scientist Prager (The Shark Whisperer, 2014, etc.) knows these islands well; she introduces many of their most interesting creatures while showing readers Ezzy's discomfort. On their second full day out, animals become the least of her fears when smugglers hijack their ship... The premise and setting of this adventure are convincing... A suspenseful tour for nature-loving middle graders." (Adventure. 9-13) —Kirkus Reviews
"Dr. Prager is a scientist and an author, so she creates exciting stories and backs everything up with science and an understanding of nature and marine life, plus a genuine love and concern for our world that becomes contagious. [...] Escape Galápagos is an exciting story with a conscience. [...] In short, Escape Galápagos is a great new adventure for your realistic fiction readers and your fantasy readers that like reality-based fantasy." —Rosemary Kiladitis