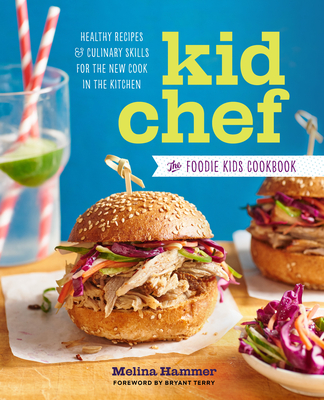 Kid Chef: The Foodie Kids Cookbook: Healthy Recipes and Culinary Skills for the New Cook in the Kitchen (Paperback)
The Foodie Kids Cookbook: Healthy Recipes and Culinary Skills for the New Cook in the Kitchen
Sonoma Press, 9781943451203, 202pp.
Publication Date: April 5, 2016
Description
"There may be no better way to instill a love of good food in your kids than by having them learn to cook. Kid Chef helps them develop fundamental skills, harness their curiosity, and turn out tasty, family-friendly dishes."―Cooking Light Magazine
Every parent knows that when it comes to cooking--practice really does make perfect. Unlike other kids cookbooks that dumb down recipes, Kid Chef gets kids cooking nutritious meals that engage their skills and instill confidence in the kitchen. Covering basic techniques and featuring tutorials for tasty recipes, this kids' cookbook is sure to turn any child into a chef.
More than just a kids' cookbook, Kid Chef is a learning tool that includes:
75] Healthy Recipes: easy-to-follow recipes for snacks and small bites, main dishes and desserts that parents will love
Kitchen 101: learn how to stock the pantry, create a grocery list, handle a knife, and use the stove
Facts and Tips: from variations on your favorite recipes to fun food facts this kids' cookbook covers everything
A kids' cookbook for grown-up tastes: recipes for Homemade Granola, Mini Quiches, Minty Lamb Burgers, Rosemary Shortbread Cookies, and so much more
"This is an amazing cookbook for introducing children to the joys of cooking. I loved that instead of being just a collection of recipes oversimplified for children, it was a well-thought-out teaching tool."--Heather Columbo, Mom to a kid chef
Advertisement