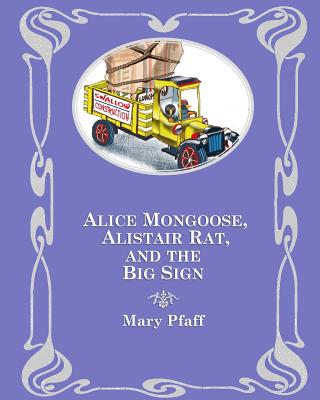 Alice Mongoose, Alistair Rat, and the Big Sign (Paperback)
In Which Alice and Alistair Learn Not to Assume
Hawaiian Heritage Press, 9781943476114, 34pp.
Publication Date: December 3, 2016
Other Editions of This Title:
Paperback (10/15/2015)
Paperback (5/27/2016)
Paperback (12/6/2016)
* Individual store prices may vary.
Description
Alice Mongoose and Alistair Rat have a lovely lunch shop. Alice runs it during the daytime, and Alistair, who is nocturnal, manages the night shift. Everything is working well-until a helpful customer suggests that they put up a sign. Alice and Alistair agree that their lunch shop should have a sign. And they assume they agree on what the sign should say. When the delivery arrives, Alice and Alistair both have a bad surprise. They must work together and come up with an agreeable solution, and they learn that it is never wise to assume.
About the Author
Mary Pfaff, acclaimed as "the Beatrix Potter of Hawaii," was born about 1875 in Brockton, Minnesota. At the age of twenty-two, she moved to Hawaii to work at the Hawaiian Gazette. There she met and married local businessman William Apana. Mary wrote and illustrated the Alice Mongoose stories to entertain their young daughter Mildred. William arranged to have Mary's delightful sketches and stories printed as hardcover books. Alice Mongoose's recent renaissance may be credited to the efforts of Mary Pfaff's granddaughter, Dorothy Pfaff. A new generation of parents and children have come to appreciate the books' unselfconscious multiculturalism, sensible life lessons, and positive main characters. Keep up with Alice and Alistair at alicemongoose.com Be friends with Alice and Alistair on Facebook: facebook.com/AliceMongoose Get news of events, giveaways, promos, and releases: bit.ly/MongooseMail