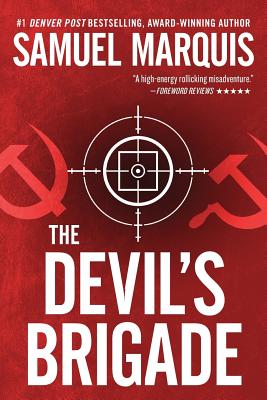 The Devil's Brigade (Nick Lassiter #1)
Paperback

* Individual store prices may vary.
Description
THE DEVIL'S PILE BRIGADE - A NICK LASSITER-SKYLER THRILLER BOOK 1 (FORMERLY THE SLUSH PILE BRIGADE)
#1 DENVER POST BESTSELLER (FICTION)
AWARD-WINNING FINALIST BEVERLY HILLS BOOK AWARDS (MYSTERY)
In this first thriller in the Nick Lassiter-Skyler International Espionage Series, Mr. Everyman Nick Lassiter becomes an unwitting intelligence operative and encounters for the first time the beautiful female assassin Skyler, who plays a prominent role in Books 2 and 3 of the series. As he celebrates his thirtieth birthday with friends, Lassiter is also a man in crisis: he has lost his girlfriend and his job, is wanted by the police, and has discovered that his unpublished thriller, Blind Thrust, has been stolen and turned into a blockbuster movie called Subterranean Storm. Even worse, the movie is based on a soon-to-be bestselling novel by Australian thriller writer Cameron Beckett, one of the world's biggest brand-name authors. Rather than seek revenge through a financial settlement or public humiliation, Lassiter sets out for New York to obtain mea culpas from Beckett and his renowned literary agent, whom he is certain colluded with the Aussie in stealing his debut novel.
Once in New York, Lassiter, and his three fish-out-of-water friends who insist on accompanying him, instantly run afoul of the law and other powerful forces intent on thwarting them and their mission. As they encounter one thorny obstacle after another, the scope of their inquiries expands and they are soon in way over their heads, battling toe-to-toe not only against the mega-bestselling author and his agent, but a formidable army of antagonists, including the NYPD, Beckett's Big Five publishing house security squad, and the Russian mob. Collectively, these adversaries present Lassiter with the greatest--and deadliest--challenge of his life.
Unexpectedly aided by his CIA father, Director of the Russian Counterintelligence Desk, and his former girlfriend turned CIA-informant, Lassiter and his comrades take to calling themselves the Devil's Brigade in tribute to the legendary U.S.-Canadian First Special Service Force, an elite commando outfit that fought in Italy in World War Two. Outmatched and outgunned, they are foiled at every turn but still they are determined to win. But will justice be attained? Can they prove that Beckett and his crooked literary agent have stolen Lassiter's blockbuster novel and are undeservedly reaping the success? More importantly, can they solve one of the most important counterintelligence cases in CIA history and in the process honor the original Devil's Brigade?
Praise For The Devil's Brigade (Nick Lassiter #1)…
THE SLUSH PILE BRIGADE - #1 DENVER POST BESTSELLER FICTION

"This high-energy, rollicking misadventure will change the way you look at the publishing industry forever. The plot--complete with car chases and gun play--is unpredictable...twists, turns and counterturns abound. So, too, does the humor. The dialogue is superb..."--Foreword Reviews - Five Stars (*****)

"There's a lot going on in Marquis' book, as the author smartly builds off a solid premise...A fresh concept and protagonist that breaths life into a conventional but exciting actioner."--Kirkus Reviews

"The Slush Pile Brigade is a hilarious and exciting read filled with one crazy turn after another. The author slams on the accelerator early in the story and doesn't let up, forcing the reader to flip the pages frantically. It's hard not to think, 'What's he going to come up with next?' And once it's over, it's still hard to catch one's breath."--Self-Publishing Review - 4.5/5 Stars (****1/2)

"Twists, turns, and double-crosses in literary theft quickly expand to threaten the globe in: THE SLUSH PILE BRIGADE. Marquis has laid the groundwork as a thriller writer and hopefully his following novels build up a James Patterson-esque empire. A promising debut from an up-and-coming thriller writer."--IndieReader - 4.5/5 Stars (****1/2)

"Marquis makes the bewildering journey entertaining with the supporting cast of quirky friends who accompany Nick on his mission. Frequent nods to popular literature, and the fact that Marquis himself wrote a novel called Blind Thrust, bring out the book-within-a-book theme, and the New York City scenes and dialogue feel authentic throughout. Read The Slush Pile Brigade for...the enjoyable romp that it is."--BlueInk Review
Mount Sopris Publishing, 9781943593002, 272pp.
Publication Date: July 15, 2015