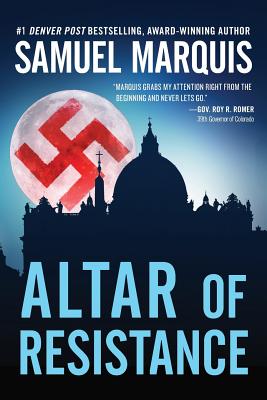 Altar of Resistance
Paperback

* Individual store prices may vary.
Description
In this second thriller in the bestselling WWII Trilogy, the Eternal City of Rome during the Nazi Occupation of 1943-1944 is a besieged city with four parties grappling for control: the Allies--represented by Captain John Bridger of the American-Canadian First Special Service Force--trying to capture Rome as the first Axis prize of war but encountering stiff opposition; the German Occupiers--represented by SS Colonel Wilhelm Hollmann, the German father of John Bridger--trying to throw the Allies back into the sea while holding Rome hostage and using it as a staging ground and supply line to the front; Pope Pius XII, codenamed the "Chief," deeply involved in the plot to remove Hitler from power while struggling to maintain Vatican impartiality, save Rome from destruction, and protect the city's Jews and others from extermination; and finally, the Partisans represented by Teresa Hollmann, daughter of Hollmann and half-sister of John Bridger, who during the Occupation is transformed from a passive member of Rome's aristocracy to an active Resistance fighter. Based on actual historical events and newly released OSS/CIA and KGB documents, Altar of Resistance recounts the long, hard struggle that led to the Allied liberation of Rome. Meanwhile, as the American and British Armies push towards the Eternal City, Rome's top secret agent--Pope Pius XII, leader of the Vatican's Church of Spies--orchestrates events behind the scenes in an attempt to thwart German oppression, overthrow the F hrer, and usher in a viable post-Hitler government.
Mount Sopris Publishing, 9781943593033, 370pp.
Publication Date: January 24, 2017