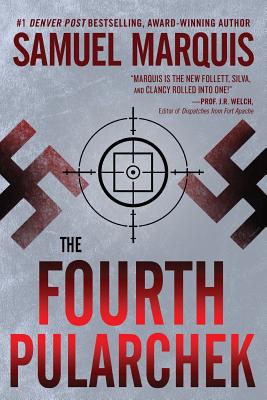 The Fourth Pularchek
A Novel of Suspense (Nick Lassiter-Skyler Thriller #3)
Paperback

* Individual store prices may vary.
Description
This is the third book in the Nick Lassiter-Skyler International Espionage Series. In Book 1, The Devil's Brigade, Mr. Everyman-Struggling Author Nick Lassiter is introduced and goes to New York hoping to confront the second bestselling author in the world who plagiarized his unpublished novel. Instead, he gets caught up in the middle of a CIA operation with his father Benjamin Brewbaker and former girlfriend Natalie Perkins to take down powerful Russian mobsters. In Book 2, The Coalition, the femme fatal Italian assassin Skyler introduced in Book 1 takes center stage and terminates the U.S. President-elect. As she plays a game of cat-and-mouse with the pursuing authorities, an FBI agent and reporter working together eventually close in on her and in the process uncover a vast right-wing conspiracy to gain control of the U.S. Government. In Book 3, The Fourth Pularchek, Lassiter and Skyler appear together for the first time as major characters. They quickly become embroiled in an international case involving Lassiter's newly discovered biological father, the Polish billionaire and intelligence commander Stanislaw Pularchek, and buried secrets from Europe's World War II past. Their perilous journey takes them from the American capitol to the streets of Warsaw to the murderous gates of Auschwitz to the salt mines and snow-dusted mountain peaks of Austria. But can Lassiter, his adoptive father Brewbaker of the CIA, and his Polish biological father Pularchek work together as a team, and are they prepared for the consequences of stirring up the past? Furthermore, will Skyler be brought to justice for her multiple killings on U.S soil, or will she escape yet again?
Mount Sopris Publishing, 9781943593156, 294pp.
Publication Date: June 1, 2017