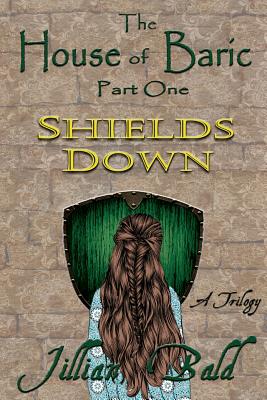 The House of Baric Part One
Shields Down
Paperback

* Individual store prices may vary.
Other Editions of This Title:
Hardcover (10/30/2018)
Paperback (12/8/2015)
Description
"This is a delightful series." -- Historical Novel Society Book Review
Marriage matches for the Venetian nobility were not preordained by God in heaven, they were skillfully negotiated by fathers looking to enhance their own prestige and wealth.
A 17th century young lady could overlook petty shortcomings in her future husband, if he were rich, held a title, and was easy on the eyes. Mauro Baric would have been such a desirable match. As heir to a Venetian barony, Mauro had connections to powerful political allies that would please a future father-in-law. As a bonus to the potential bride, he was indeed attractive and desirable.
Mauro did have some quirks, though, perhaps due to his crazy mother's neglect, or his father ruining Mauro's wish to die a hero's death on a battlefield somewhere, or his own lingering guilt over his brother's accident. He was the last male of the House of Baric and must marry soon. But his match was sealed years ago.
Terese Kokkinos--Resi, as her family called her--was not a Venetian lady. She was the daughter of an Ottoman sea trader and was not interested in marrying an aristocrat any more than Mauro wanted a common Greek girl as his bride. But what they wanted was irrelevant. Betrothed as children to repay Resi's father's debt to the Barics, their paired future together was the keystone to the House of Barics' continued success, as well as proof of her father's pledge to no longer cheat them.

The House of Baric Part One: Shields Down begins in the summer of 1649. The Thirty Years' War was winding down, and Mauro and his small army could finally spend their days at Baric Castle again. A year has passed since Mauro and Resi's marriage, yet the newlyweds still barely knew each other. Her strong will and his stoic nature made for an awkward courtship as they learned more about each other. Through it, Mauro could no longer deny that his complicated and unpredictable wife might be his perfect match after all.

Love will bloom, and not just between the Barics. Romance will go beyond talking. These were 17th century Venetians, and some scenes will get steamy. Their frank views on life and love are a part of this story.

Unexpected visitors will bring new troubles to add to those already at Baric Castle. The solutions will spill over into part two of the engaging trilogy.

With humor and drama, the story grows like smoldering coals igniting as new kindling is added bit by bit. You are a fly-on-the-wall in the Barics' intriguing world throughout the three part saga. Love, war, hating, and mating were perhaps not so different back in the 17th century. These entertaining and memorable characters only wanted to steer their own destinies in search of a happily ever after, and you will find yourself rooting for them to succeed in their quest.
Hillwalker Publishing, 9781943594078, 444pp.
Publication Date: May 1, 2018
or
Not Currently Available for Direct Purchase