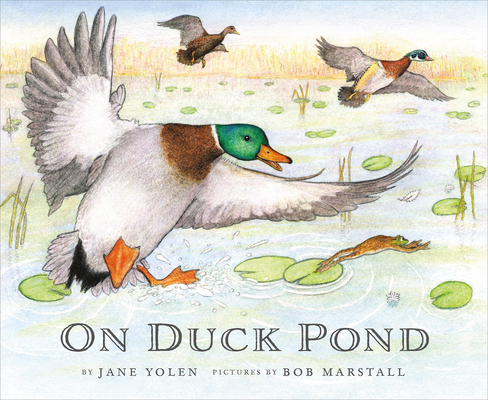 On Duck Pond (On Bird Hill and Beyond #2)
Hardcover

* Individual store prices may vary.
Other Editions of This Title:
Paperback (3/27/2019)
Description
From award-winning and NY Times bestselling children's author of more than 350 books, Jane Yolen, and award-winning illustrator, Bob Marstall, On Duck Pond is the first sequel to the acclaimed On Bird Hill, which launched the children's picture book series written for the esteemed Cornell Lab of Ornithology, the world authority on birds. In On Bird Hill, Yolen and Marstall took readers on a surreal journey with a boy and his dog, as they stopped, looked, and noticed things along their path--ultimately discovering the miracle of the birth of a baby bird. On Duck Pond continues the journey of the boy and dog story, this time in a new place--a serene pond, filled with birds, frogs, turtles and other creatures going about their quiet business. Their intrusion stirs the pond into a cacophony of activity, reaching climactic chaos, before slowly settling back to it's quiet equilibrium. This beautiful and enchanting sequel is sure to delight On Bird Hill fans and millions of readers and fans of Jane's popular classics.
Cornell Lab Publishing Group, 9781943645220, 32pp.
Publication Date: April 11, 2017
About the Author
Jane Yolen has authored more than 350 books including the Caldecott-winning Owl Moon, loved by children and bird watchers of all ages, You Nest Here With Me which is a popular new favorite, and the New York Times bestselling series How Do Dinosaurs. Jane Yolen's books have been translated into over 20 languages and are popular around the world. Her husband David Stemple was both a well known bird recordist and a professor of computer science and he taught the entire family how to identify birds. Many of Ms. Yolen's books are about wildlife subjects, especially the winged kind. Jane lives in Easthampton, MA. Bob Marstall is the illustrator of nine nonfiction children's books, including The Lady and the Spider, which sold over a quarter-of-a-million copies and was a Reading Rainbow selection. Bob has also been honored with an ALA Notable; an IRA Teachers' Choice; a Smithsonian Magazine Notable Book for Children; and three John Burroughs selections. In addition, two of Bob's books are included in the New York Times Parent's Guide's "1001 Best Books of the Twentieth Century." Bob lives in Easthampton, MA.