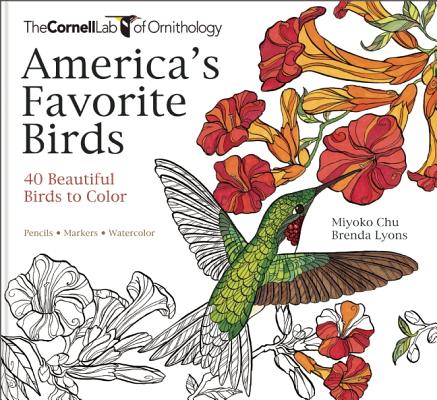 America's Favorite Birds (Paperback)
40 Beautiful Birds to Color
Princeton University Press/The Cornell Lab Pu, 9781943645411, 88pp.
Publication Date: September 13, 2016
* Individual store prices may vary.
Description
Coloring enthusiasts and bird lovers unite with America's Favorite Birds -- a beautiful and intricately designed coloring book of North America's Top 35 most watched / popular wild birds, from the leading authority on birds, the Cornell Lab America's Favorite Birds, the first of two titles in a series of Adults Coloring titles from the Cornell Lab, is so much more than a typical adult bird coloring book. Each page includes authentic and detailed backgrounds depicting where each bird perches, nests, and feeds. On the back of each coloring page, readers can learn about the bird they colored...where they live, what they eat, maps, etc., just enough to complete their connection with nature. Plus, a full color illustration pull-out section provides reference, and perforated pages make each finished page easy to save and display. And, as with all Cornell Lab Publishing Group books, a full 35% of the net proceeds from the sale of the America's Favorite Birds coloring book will go directly to Cornell Lab to support projects such as children's educational and community programs.

About the Author
Dr. Miyoko Chu Miyoko Chu has loved birds since the age of 11, when she raised pigeons in her backyard coop. Today she is a Ph.D. ornithologist and senior director of Communications at the Cornell Lab of Ornithology. She leads the teams that have brought you the Cornell Lab's Merlin Bird ID app, live Bird Cams, and All About Birds website, which engage more than 14 million people annually in learning about birds. Miyoko is the author of Songbird Journeys: Four Seasons in the Lives of Migratory Birds, and Birdscapes: A Pop-Up Celebration of Bird Songs in Stereo Sound.Brenda Lyons is an illustrator from Manchester, Connecticut, whose work explores the natural world with a deep love and focus on birds. Her watercolor paintings capture birds and otherworldly avian creatures in realistic and dreamlike compositions, while she also paints fantastical worlds in acrylic, oils, as well as using pen and ink and graphite. Brenda is the author and illustrator of Winged Fantasy: Draw and Paint Magical and Mythical Creatures (IMPACT Books, 2014). She holds her B.A. in Art from Rocky Mountain College, and her M.F.A. in Illustration from the Savannah College of Art and Design. Brenda also volunteers the at Horizon Wings Raptor Rehabilitation and Education Center, helping care for sick and injured raptors and corvids, as well as community events and education programs.