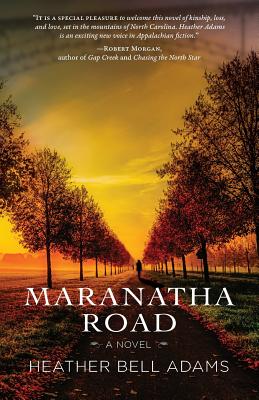 Maranatha Road (Paperback)
Vandalia Press, 9781943665754, 300pp.
Publication Date: September 1, 2017
* Individual store prices may vary.
Description
After Sadie's son, Mark, is gone, she doesn't have much use for other people, including her husband. The last person she wants to see is Tinley Greene, who shows up claiming she's pregnant with Mark's baby.
 
Sadie knows Tinley must be lying because Mark was engaged and never would have betrayed his fiancée. So she refuses to help, and she doesn't breathe a word about it to anybody. But in a small, southern town like Garnet, nothing stays secret for long.
 
Once Sadie starts piecing together what happened to Mark, she discovers she was wrong about Tinley. And when her husband is rushed to the hospital, Sadie must hurry to undo her mistake before he runs out of time to meet their grandchild.
 
About the Author
Heather Bell Adams is from Hendersonville, North Carolina, and now lives in Raleigh with her husband and son. She is the winner of the 2016 James Still Fiction Prize and her short fiction appears in the Thomas Wolfe Review, Clapboard House, Pembroke Magazine, Broad River Review, and elsewhere. This is her first novel and is the winner of the Knoxville Writers' Guild Contest.
 
Praise For Maranatha Road…
"It is a special pleasure to welcome this novel of kinship, loss, and love set in the mountains of North Carolina. Heather Adams is an exciting new voice in Appalachian fiction."
Robert Morgan, author of Gap Creek and Chasing the North Star
 
"Maranatha Road is an ode to beauty and suffering, grief and hope in a small mountain town. Within its pages, Heather Bell Adams brings to vivid life two strong, Southern women, at odds yet bound by love's saving grace. I'll be thinking of Sadie and Tinley for a long time to come, and waiting eagerly for more to read from this gifted new writer."
Amy Greene is the author of Bloodroot, Long Man, and The Nature of Fire
"In prose as pure and clear and resonant as a mountain ballad, Adams takes us directly into the hearts of her characters."
Kim Church, author of Byrd
"The prose in Heather Adams' exquisite novel Maranatha Road sparkles with honesty and vitality—both poetic and musical in the way of the best southern writing. Her characters crackle with humanity and their alternating voices tell a sweeping story of love, compassion, and the timeless bonds of family."
Mary Akers, author of Bones of an Inland Sea
 
"Moving and deeply satisfying." 
Gregg Cusick, author of My Father Moves Through Time Like a Dirigible
"Filled with the poetry of shattered lives, Maranatha Road is the novel of the desperado. A haunting debut."
Harriet Levin Millan, author of How Fast Can You Run
 
"Rare is the book that has the power to change our way of thinking, and ever rarer is the writer who can blow the dust off our hearts and remind us what it means to feel, to love, and to rediscover the pathways to our own humanity. You are well advised to follow what will undoubtedly be the rapid rise of this stunning new voice in the literary arena."
Wil Mara, author of Frame 232 and The Nevada Testament