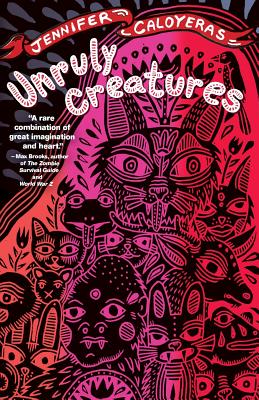 Unruly Creatures
Stories
Paperback

* Individual store prices may vary.
Description
Independent Publisher's Book Awards, Silver Medal, Short Story Fiction
In this collection rife with humor and pathos, alienated characters struggle to subvert, contain, control, and even escape their bodies. A teenage girl grapples with pubic hair grown wild, a biologist finds herself in love with a gorilla, a prisoner yearns to escape her biological destiny.  
 In some stories, the bodies have surrogates: a high-school girl babysits an elderly woman's plastic doll while negotiating her own sexual awakening, and a young man finds that he can only receive affection from his father when he is in costume. Dark humor and magical realism put in sharp relief the everyday trials of Americans in a story collection that asks, in what way are we more than the sum of our parts?    
Praise For Unruly Creatures: Stories…
"Jennifer Caloyeras is an enormously talented writer with a rare combination of great imagination and heart."
Max Brooks, author of
The Zombie Survival Guide
and
World War Z
"A can't-miss collection for readers who love a blend of humor, magical realism, and surrealism."
Bustle
"Caloyeras guides us through her characters' states of mind, traversing the conscious and subconscious. Call it magical realism, or just refer to it as "weird stuff, dude." Either way, all the unbelievable-yet-somehow-believable worlds that Caloyeras creates feel easy for readers to fall into in an Alice down-the-rabbit-hole kind of way."
Alicia Eler, 
Star Tribune
"Jennifer Caloyeras's stories snap, crackle, and pop with animal energy. Every one of these stories is an unruly creature, wild at heart, fierce and funny, and heartbreaking."
Zsuzsi Gartner,  author
of Better Living through Plastic Explosives
and
All the Anxious Girls on Earth
"Riotous, off-kilter, tender, magical—this collection is utterly accomplished and madly engaging. Jennifer Caloyeras's writing is as wild and beautiful as the unruly creatures in her stories."
Laura Trunkey, author of
Double Dutch
, a 2017 ABA Indies Introduce title
Vandalia Press, 9781943665785, 180pp.
Publication Date: October 1, 2017
About the Author
Jennifer Caloyeras is the author of Strays. Her short stories have appeared in Booth, Storm Cellar, and other literary magazines. She recently served as the artist-in-residence at the Annenberg in Santa Monica and teaches writing at the the UCLA Extension Writers' Program. She lives in Los Angeles with her husband and two sons.