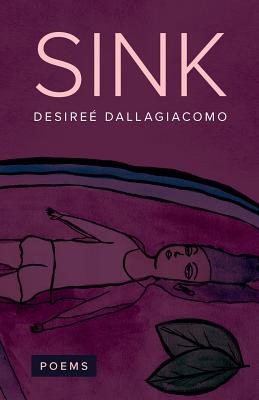 Sink
Paperback

* Individual store prices may vary.
Description
Desiree Dallagiacomo's debut book grapples with the intersections of family and mental health.

SINK asks and answers hard questions about grief, lineage, death and all manner of inheritance.
What is one left with when they come from a family that has nothing to its name but loss?

Throughout, Dallagiacomo weighs the cost of what it is to be alive and a woman in a landscape that makes being alive and a woman uninviting.

SINK approaches grief and depression not as a tourist, but instead with the power and nuance of someone who has survived and made the most of their survival.

Advance praise for SINK

These poems are... a graceful and patient anthem for survival, girlhood, and family. Dallagiacomo has proven here that menoir and poetics are so frequently one and the same, and at their best, belong together.
-Olivia Gatwood, Author of New American Best Friend

SINK, is a testament to survival, inheritance, and the fierce tenderness and precision needed to confront memory. Like a memoir in verse, each poem is tethered to something pulsing.
-Hieu Minh Nguyen, Author of Not Here
Button Poetry, 9781943735495, 104pp.
Publication Date: March 5, 2019