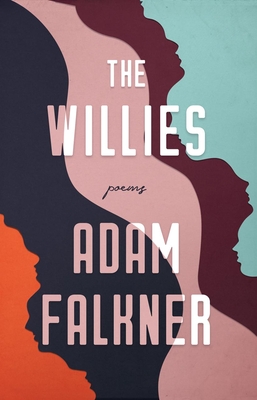 The Willies
Paperback

* Individual store prices may vary.
Description
"Prophetic in bleak times"
--DR. CORNEL WEST

The Willies, Adam Falkner's first full-length poetry collection, offers a sharp and vulnerable portrait of the journey into queerhood in America. In a voice that Dr. Cornel West heralds as "prophetic in bleak times," Falkner departs from a more familiar coming out narrative to center the stories of dueling selves. Masquerading white boy. Child of an addict. Closeted varsity athlete.

Drifting seamlessly between the scholarly and conversational, Falkner's poems showcase a versatility of language and a courageous hunger, unafraid of depicting the costumes we use to hide legacies of toxic masculinity. Through snapshots both tragic and humorous, merciless and humane, Falkner offers powerful new ways of understanding the intersectional linkage that binds queer shame to cultural appropriation. At its core, The Willies asks us to consider who we will become if we do not grapple with what scares us most.


Advance praise for The Willies

Adam Falkner has heard what hums at the marrow of men who deceive themselves in order to survive America.
-- SAEED JONES

This is truth that changes the air it reaches. This is poetry that, damn it, you can't shake.
-- PATRICIA SMITH

In these urgent and sometimes mysterious poems, Falkner traces questions of identity, family, love and the self. His language is angular and surprising, his content intimate and profound.
-- ANDREW SOLOMON

Adam Falkner is a poet with a heart of gold and a spine of steel. We need his prophetic voice in these bleak times. --DR. CORNEL WEST

I am thankful for the incisive mind and eye of Adam Falkner. In the poems, the work of balancing several selves at once is done gently, deftly, and with the brilliance of someone curious about how limitless they can become.

― HANIF ABDURRAQIB
Button Poetry, 9781943735662, 96pp.
Publication Date: February 4, 2020