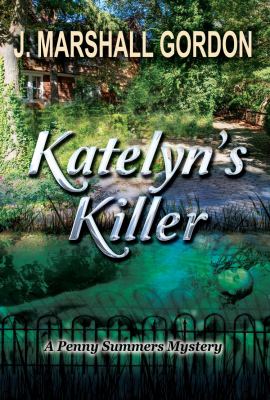 Katelyn's Killer (Penny Summers Mystery #1)
Paperback

* Individual store prices may vary.
Description
Penny Summers' first foray as a gardener brings her face to face with her newest friend, college sophomore Katelyn Blake, dead in a swamp-like goldfish pond. Penny, a former Navy public affairs officer, is determined to research an article about Katelyn, hoping to discover the killer. When she's put in charge of planning a monster Fourth of July festival, Penny is up to her tramp stamp in competing allegiances.
Katelyn's Killer is woven into the fabric of Maryland's capital city and its two most famous schools, the U. S. Naval Academy and historic St. John's College. Where the scent of Chesapeake breezes, ancient boxwoods and old money mingle.
"Jackson Pollock couldn't have improved on the macabre art: rips and bloodstains among the green, gray and ochre swirls of her camouflage
jacket."
Praise For Katelyn's Killer (Penny Summers Mystery #1)…
"Katelyn's Killer is a fast read with a likeable protagonist named Penny Summers. Set in Annapolis, Maryland, the former Naval officer becomes entangled in a murder investigation when she finds the body of a friend in a goldfish pond. Gordon's prose is smooth and clever, and he gives enough plot twists to keep armchair Sherlocks guessing. The Eastern Shore of Maryland is beautifully rendered, and the reader is given a vivid sense of the modern day U.S. Navy. This land-lubber learned a lot, and enjoyed it." ----- Sallie Bissell, Author of the Mary Crow thrillers.

"John Gordon's debut mystery novel, Katelyn's Killer, provides an appealing portrait of (mostly) tranquil life in the shadow of the U.S. Naval Academy in Annapolis Maryland and an engaging pair of sleuths to solve the murder that disrupts that tranquility, as he depicts the tragedy of war's unintended consequences, the mendacity of contemporary politics, and the rewards of dogged determination — a first-rate mystery." ----- Con Lehane, Murder at the 42nd Street Library

"Penny Summers, ex-Navy turned gardener-for-hire is a charming but conflicted amateur sleuth, goaded by her own burden of guilt and supported by helpful whispers from her late grandfather. Cozy readers will enjoy the rich Maryland settings and the cast of quirky characters, as well as the moral dilemma and surprising resolution of this multi-faceted story."
----- Vicki Lane, author of the Elizabeth Goodweather Appalachian Mysteries

"Choosing a mystery from a bevy of debut authors can cause trepidation. Let me assure you there is nothing to fear in choosing John Gordon's Katelyn's Killer. From the opening chapter to the final sentence, Gordon takes us on a fresh, invigorating ride with a clever plot, entertaining sleuth, and a knowledge of Annapolis, Maryland, only someone with Gordon's background can display. Buy this book, find the nearest comfy couch, and have no fear." ----- David Schulman, The Past Is Never Dead
"Fans of Annapolis and traditional mysteries will love the intriguing debut in the Penny Summers Mystery series. This beautifully written story will touch your heart and grip your senses."
----- Larissa Reinhart, author of the Cherry Tucker Mystery series.


Taylor and Seale Publishers, 9781943789498, 326pp.
Publication Date: May 3, 2017
About the Author
John lives in Asheville, N.C. with his wife, two dogs and three cats. John attended St. John's College in Annapolis and earned a B.A. in English at Franklin and Marshall College. After a short stint at The Washington Post, he served as a Navy air intelligence officer and public affairs officer. After traveling world-wide as an award-winning documentary film producer, he began writing Penelope Summers mysteries.
More at: www.PennySummersMysteries.com