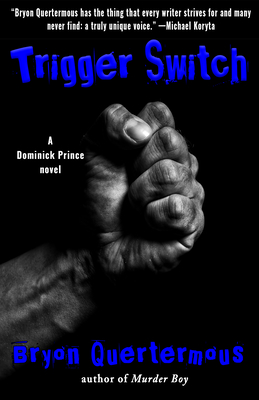 Trigger Switch (Dominick Prince) (Paperback)
Polis Books, 9781943818457, 240pp.
Publication Date: June 5, 2018
Description
Dominick Prince has been a magnet for trouble his entire life. A series of poor life choices and his natural tendency to attract the wrong kind of people have resulted in two failed bids at grad school, a failed writing career, and a failed marriage to the contested successor of a crumbling criminal family. These failures persuade Dominick to accept an offer he SHOULD refuse from an old high school classmate, Dutchy Kent, who wants to mount a stage version of one of Dominick's stories in New York City. In reality, Dutchy is trying to track down a missing $1.2 million, and needs someone else to do the dirty work, someone who attracts trouble and is easily manipulated. Cue Dominick... Unfortunately for Dutchy, the Dominick who shows up at his office is not the kid he used to know. Because for 29 years Dominick has played the role of patsy, fall-guy, cautionary tale, understudy, and joke. But he's about to break character and go off script to show the world the true effect of violence and bullying. His old dreams may be dead, but a million dollars and the satisfaction of making an old bully suffer seem like a fair trade-off.
About the Author
Bryon Quertermous is the author of two previous Dominick Prince novels: Murder Boy and Riot Load His short stories have appeared in Plots With Guns, Thuglit, and Crime Factory, among others, and in the anthologies Hardcore Hardboiled, The Year's Finest Crime, Mystery Stories, and Uncage Me. He was shortlisted for the Debut Dagger Award from the UK Crime Writers' Association. He lives outside of Detroit with his wife and three children. Follow him at @BryonQ.
Advertisement