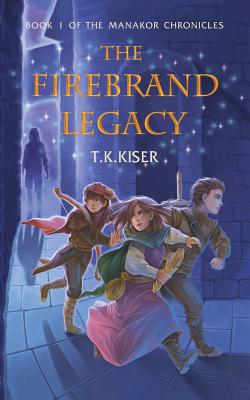 The Firebrand Legacy (Manakor Chronicles #1)
Paperback

* Individual store prices may vary.
Description
Ever since the ash dragon Kavariel killed her sister, fourteen-year-old Carine has hated dragons and the magic they bring.

Every year she endures the Festival when the dragon delivers his flame and enchantment to the capital city of Esten. The dragon's flame is powerful. It kills, but also provides magic that keeps the Heartless Ones at bay.

Until this year, when the dragon doesn't come.

Instead, a Heartless One enters Esten and threatens the safety of Carine's family and beloved city. Forced to leave her parents behind, she joins forces with two princes and sets off on a death-defying journey to save all she holds dear.

But when restoring her home means confronting the magical language and dragons she has come to hate, and when unraveled secrets threaten to destroy the world she is trying to save, Carine's only hope is in her enemy...
This new upper middle grade fantasy adventure is full of risks, trial, and friendship. It is a coming-of-age story that will leave readers hungry for more of this fantastical world.
Praise For The Firebrand Legacy (Manakor Chronicles #1)…
"Kiser creates a likable protagonist in Carine, who travels on both a literal and figurative journey to become the heroine she is meant to be. The princes, particularly David, are the perfect saviors and sidekicks…A rousing saga of magic and mystery that leaves the door wide open for a sequel and more." – Kirkus

"…page upon page of action and adventure, making it hard to put aside…There are plenty of subtle lessons on friendship, faith, acceptance, and sacrifice and plenty of memorable scenes, creatures, and characters. And as a bonus, the underlying message of the power of language is always a good element to have in writing for a young audience." – Hall Ways Reviews
Saint Pancratius Press, 9781943835034, 260pp.
Publication Date: December 8, 2015