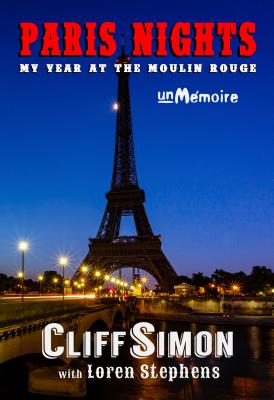 Paris Nights
My Year at the Moulin Rouge
Hardcover

* Individual store prices may vary.
Description
Taking a look back, we see twelve-year-old Cliff helming aracing dinghy in the midst of a thunderstorm on the Vaal River. His father yells at him not to be a sissy, and he brings the boat back to shore alone.We then travel to London with his family escaping the tumult of Apartheid.He trains for the Olympics, but drops out, enrolling in the South African military where he subjected to harsh treatment and name calling - Fokken Jood. After a honorable discharge, he works in cabaret at seaside resorts and is recruited as a gymnast in a cabaret, where he realizes that the stage is his destiny. The memoir fast forwards to Cliff's meteoric rise at the Moulinfrom swing dancer to principal in "Formidable." Off stage he gets into fights with street thugs, hangs out with diamond smugglers, and has his pick of gorgeous women. With a year at the Moulin to his credit, doors open for him internationally and back in South Africa. He earns a starring role in "Egoli: Place of Gold," and marries his long-time girlfriend, Colette. On their honeymoon to Paris, Cliff says, "Merci Paris for the best year of my life.
Praise For Paris Nights: My Year at the Moulin Rouge…
"'Paris Nights,' the memoir of a South African soldier turned performer in the world's most famous cabaret, delivers in a hugely entertaining way. He writes of Paris as no one has done before, the after-dark city of night clubs, dance groupies, street fights, and shady characters. His is a truly singular story, and it's told with humor, swagger, and absolute honesty."
--Marcia DeSanctis, author of "100 Places in France Ever Woman Should Go"

"'Paris Nights: My Year at the Moulin Rouge' by Cliff Simon with Loren Stephens was unique, interesting, and filled with adventures--a movie waiting to happen."
--Ica Iova, "Readers' Favorite"
Waldorf Publishing, 9781943848928, 203pp.
Publication Date: July 15, 2016
About the Author
Best known as the evil Ba'al in Stargate and Stargate Continuum, Cliff has had guest appearances in the NCIS franchise, Twenty-Four, Castle, The Americans, and numerous other television series, usually playing the tough guy. With his rugged good looks inherited from his Lithuanian father and Polish mother, he has worked as a runway and print model in the United States and South Africa, and has done voice over work for video games. He makes his home in Los Angeles, where in his downtime, he windsurfs, practice martial arts, and hangs out at the beach with his pit bull, Duma.
or
Not Currently Available for Direct Purchase