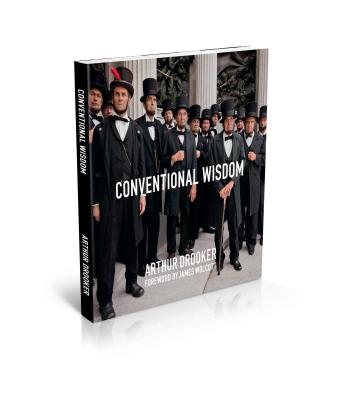 Conventional Wisdom (Hardcover)
Glitterati, 9781943876273, 192pp.
Publication Date: August 22, 2016
* Individual store prices may vary.
Description
An unconventional chronicle, Conventional Wisdom is author-photographer Arthur Drooker's quirky look at conventions held by some unusual interest groups, including Lincoln presenters, furries, and mermaids. Dropper documents these events as unique expressions of community, culture, and connection. The humorous and insightful text, including intimate interviews conducted with attendees, complements the stunning photographs Drooker shot during his visits to each convention over a three-year period. From the ballrooms to the vendor rooms to the guest rooms, Drooker's ubiquitous camera captures the essence and exuberance of these annual gatherings. Conventional Wisdom shows that regardless of what they're about, where they're held or who attends them, all conventions satisfy a basic human urge: a longing to belong. The book reveals that at conventions people who share similar interests, even obsessions, come together to bond and to be themselves. The outside world doesn't matter. In fact, for the weekend duration of most conventions, the outside world doesn't even exist. An attendee Drooker met at the taxidermist convention expressed it best. "This isn't a convention," he said. "It's a family reunion.
About the Author
Arthur Drooker is the author and photographer of American Ruins, Lost Worlds: Ruins of the Americas, and Pie Town Revisited. His work has been featured on CBS Sunday Morning and has toured museums, including the Virginia Center of Architecture, and the Art Museum of the Americas in Washington, D.C. Drooker has also written, produced, and directed award-winning television documentaries. To see a selection of his work, please visit arthurdrooker.com. He lives in Mill Valley, California. James Wolcott is the culture critic for Vanity Fair. He has also written for Esquire, The New Yorker, and Harper's Magazine. His books include Lucking Out: My Life Getting Down and Semi-Dirty in Seventies New York and Critical Mass: Four Decades of Essays, Reviews, Hand Grenades, and Hurrahs, which won the 2014 PEN/Diamonstein-Spielvogel Award for the Art of the Essay. He lives in New York, New York.
or
Not Currently Available for Direct Purchase