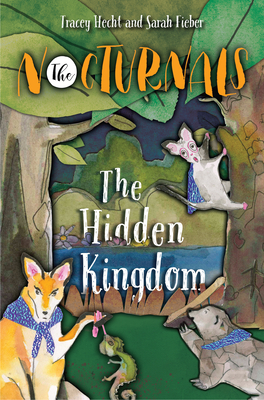 The Hidden Kingdom (Nocturnals #4) (Hardcover)
Fabled Films Press, 9781944020118, 208pp.
Publication Date: February 6, 2018
* Individual store prices may vary.
Description
"The best stories always take place in the dark " -- R.L. Stine
In The Nocturnals: The Hidden Kingdom, animals in the valley start to trip on the crumbling ground beneath them, water disappears, and disembodied voices are heard. Everyone assumes the forest is under an evil spell. However, it's a group of veiled creatures--a chameleon, stick bugs, leaf bugs, and other assorted camouflaged insects--that are upset because they want the valley's recognition for their hard work in preventing a drought. The Nocturnal Brigade--Dawn, Tobin, and Bismark--solve this mystery and unites the forest.
In The Hidden Kingdom, the fourth book in the critically acclaimed middle grade series, The Nocturnals, the adventures of three unlikely friends--Dawn, a serious fox, Tobin, a sweet pangolin, and Bismark, a loud-mouthed sugar glider--continue with teamwork, friendship, and humor.
Bonus full color illustrations throughout
Visit the Nocturnals World online to download printable activities including makerspace crafts, word games, STEM projects, Bingo, language arts and science educator guides, and more
About the Author
Tracey Hecht is a writer and entrepreneur who has written, directed and produced for film. She splits her time between Oquossoc, Maine and New York City. Sarah Fieber is a Senior Writer at Fabled Films Press. She pursued her lifelong passion for writing at Yale, and has her Masters of Professional Writing from USC, and MFA from NYU. She has published several short stories and is currently working on a young adult series. She lives in Greenwich Village, New York. Kate Liebman is an artist who lives and works in New York City. She graduated from Yale University, contributes to the Brooklyn Rail, and has shown her work at multiple galleries. She grew up in Santa Monica, California.