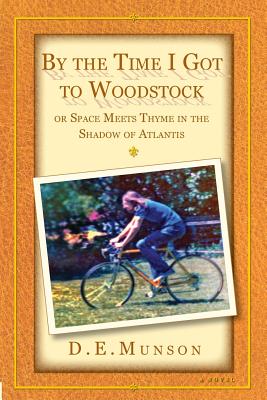 By the Time I Got to Woodstock (Paperback)
...or Space Meets Thyme in the Shadow of Atlantis (New Edition)
Epigraph Publishing, 9781944037116, 244pp.
Publication Date: October 15, 2015
* Individual store prices may vary.
Description
The phenomenal spirit that swept the world in the 1960s was, at its heart, far beyond sex, drugs, and rock 'n' roll. From the Cuban missile crisis to the Beatles, man on the moon, and the beautifully muddy mess of Woodstock, man took a giant leap in his quest for meaning in life.
How does all this affect you today? Take just a few quiet moments to read these words in this new, second edition of By the Time I Got to Woodstock: or Space Meets Thyme in the Shadow of Atlantis. Enjoy and reflect on the experience. Though he didn't make it to the Festival in 1969, Space Larrabee lived these times from the inside out. You'll be able to see how the seeds planted then took root and flourished in spite of the persistent pull of the news and fears of the day.
Love is all you need. The spirit is still alive today. Stop and listen.
Praise for By the Time I Got to Woodstock
"In By the Time I Got to Woodstock, D. E. Munson not only writes a compelling story of a youthful journey from first freedoms to falling in love, but also he captures the tone, the attitudes, and the values of an unforgettable era. Relive the 60s and 70s with this enjoyable tale that includes past lives, out-of-body experiences, young love, far-out dreams, and psychedelic wonders. If you missed the fabled Woodstock Festival, as Space Larrabee did, you'll be able to tune in to its drama, music, and wonder with this debut novel. Cool "-NY Times bestselling authors Allen and Linda Anderson, A Dog Named Leaf
"Colorful Trip of a Book. Literally and figuratively-a trip from an era which is gone but not forgotten, especially for us who were there. Music, psychedelics, changing your direction or job at the drop of a hat-the journey was everything. I love the names Munson gave his friends and characters-truly inspired. I still think of them now and then. It was a really good read, and I found myself laughing out loud. It's actually like reading a graphic novel-it was very cinematic and colorful. You can almost see the movie being made. Looking forward to the sequel."-Amazon review by film maker Barbara Buckner
"DE, De man. I met you briefly at the close of your Borders book signing last weekend. You disrupted my sleep for the next 2 days and 3 nights as I stole all available time with your book. It was a very pleasurable read. I had just finished reading Not Fade Away, another journey through our generation's time and space. I feel that the time for our stories has never been better than right now, and we who lived through the 60s and early 70s participated (some of us), in a great flowering, the seeds of which can still germinate and bear some much needed fragrance today. Thank you for putting it down so nicely. As I told you, I too almost made it to Woodstock, but never really left it at the same time."-Bob Ockenden, Jazz Guitarist
"Space and Thyme (aka Persephone Sprague) just met and what a magical moment. He met her and then he met her, the girl of his dreams. I was beginning to think that Junie was Thyme but they weren't really connecting. I knew it was a wrap once the puke fest commenced-lol.
"I cracked myself up because the last page of chapter 16 is adjacent to Chapter 17, 'Finding Thyme.' As I read about Space trying to make up his mind whether to go to Syracuse, my eyes kept popping over to the next page. I was like 'Go Go, you're about to find Thyme.' I grew a little impatient. Ha, I almost skipped the page to get to the next chapter
"Oh man, this is such a fun read. I hope it ends well. Well, to me, is the fairytale ending And the lived happily ever after. Will it end well? No don't tell me. I want to know but I don't want to know. If it doesn't end well then I want to stay in Chapter 17 where they are in the perpetual bliss of new love.

or
Not Currently Available for Direct Purchase