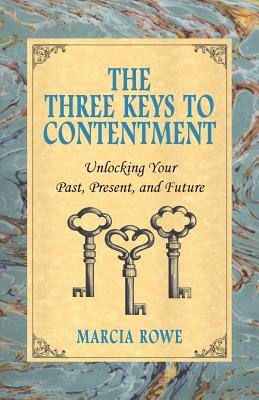 The Three Keys to Contentment (Paperback)
Unlocking Your Past, Present, and Future
Epigraph Publishing, 9781944037215, 100pp.
Publication Date: February 24, 2016
* Individual store prices may vary.
Description
​
​The Three Keys to Contentment​​ offers the use of spiritual Keys to open emotional Locks preventing one from living a peaceful life. Regrets of the past open to Forgiveness, Self-pity of the present moment opens to Gratitude, and Fear of the future opens to Faith. Supported by quotes from spiritual leaders, authors and inspiring figures past and present, the author guides the reader through the process of discovering inner strength and freedom. Practices are given for using the keys to liberate ourselves from habitual patterns and open to contentment. It is a simple and universal spiritual message for daily living.​
​ ​ ​ ​
​Marcia Rowe​​ has focused her life on creating beauty in many forms. She received a BFA from Moore College of Art, Philadelphia, PA and is a fine artist, muralist and graphic designer. Marcia's spiritual journey has led her to write ​​The Three Keys to Contentment​​. She lives in Berks County, Pennsylvania.​
​ ​ ​ ​
​Praise for ​​The Three Keys to Contentment​ ​ ​
​"Marcia has distilled the essence of Eastern and Western wisdom that will generate much thought about the meaning and goal of one's life. Both the Buddhist concept of acceptance and transcendence and Jesus' teaching about forgiveness do not imply forgetfulness, but rather learning from the past and yielding any claims it might have on your future...Inner peace comes from knowing that one is loved by our Creator, that life has a purpose, and that contentment is derived from satisfaction and fulfillment. Before one can look at the world, one must first look within in order to discover this. ​​The Three Keys to Contentment​​ will be a helpful guide to this awareness."​ ​--The Rev. Dr. Harry L. Serio, pastor, theologian, author of ​​The Dwelling Place of Wonder​​
​
​"The gently delivered material, which is filled with love and compassion...is offered as a​ ​simple, accessible guide for modern life...I love the book and can think of a dozen people I'd like to hand it to, today."​--​Sarajane Williams, MA, licensed psychologist, CCM, VAHT, editor, ​​The Harp Therapy Journal​
​ ​
​"Marcia portrays a unique and creative approach​ ​for looking at one's life; the past, the present and the future. In allowing yourself to open your heart and to embark upon her journey, you may find the answers to the many questions for which you are searching."​--​Samantha Wesner, MSN, CRNP, RNC, nurse practitioner and wellness enthusiast​
​ ​
​"Marcia is a skillful intuitive who has compassionately​ ​and clearly laid out a genuinely helpful book for those who become interested in awakening to inner guidance in the midst of life."​--​Wali Ali Meyer, Universal Sufi master and co-author of ​​Physicians of the Heart​
​ ​
​"​​The Three Keys to Contentment​​ opened my eyes to the substantial abilities we already have inside us. Because of this book, I now recognize the keys in my own life and know how to use them."​--​Jan McGinley Bubbenmoyer, author of ​​The Tree of Love​​ and visual stylist​
​