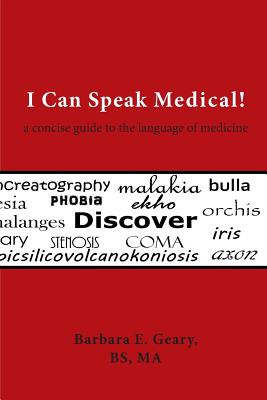 I Can Speak Medical! (Paperback)
A Concise Guide to the Language of Medicine
Epigraph Publishing, 9781944037239, 220pp.
Publication Date: April 13, 2016
* Individual store prices may vary.
Description
​
​A concise, simple and fun guide to the language of medicine for the professional, student and lay person alike.​
​ ​
​ ​
​The purpose of this book is to make accessible the language of medicine in as simple, interesting and fun a way as possible. The intended audience includes students entering career paths in health care, professionals in related fields such as medical lawyers or those working in health information systems. This book will also find interest among the general public who want to participate more intelligently in their own health plan or that of a dependent.​
​ ​
​Barbara E. Geary​​, B.S. M.A. has a background as a registered professional nurse. For a decade she taught the Introduction to Medical Vocabulary course at North Seattle College, Seattle, WA.​
​ ​
​ ​
​ENDORSEMENTS​
​ ​
​"This is a straightforward text that provides the reader with the fundamental knowledge necessary to successfully navigate the terminology used in the medical world. This is a fantastic resource for students enrolled in medical programs or allied health professionals that want to reinforce their knowledge of medical terminology."​ --​Steven L. Thomas, Ph.D.​, ​Dean of Health and Human Services​, ​North Seattle College​, ​Seattle, WA​
​ ​
​"Entertaining and highly informative. I Can Speak Medical is a valuable resource for those in the field as well as those that simply desire access into the jargon that is medical vocabulary. Barbara has created a clear path for learning that makes for both an enjoyable and insightful journey."​ --​Matt Urbanski, R.N.​, ​Running coach, Urbanski Coaching, LLC​
​ ​
​"Geary offers a tremendously interesting, informative, enlightening look at medical terminology. I highly recommend this read to nursing students, healthcare workers and anyone interested in learning more about the language of medicine. A treasure that I will refer to again and again throughout my nursing career."​​ --Shelly Waram, MSN, RN​
​