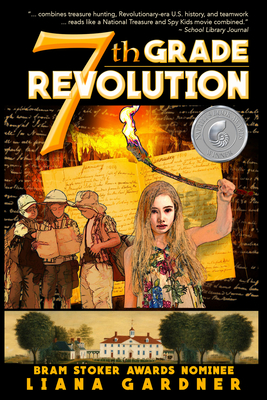 7th Grade Revolution (Paperback)
Vesuvian Books, 9781944109462, 300pp.
Publication Date: October 24, 2017
* Individual store prices may vary.
Description
WHEN UNEARTHING A NATIONAL TREASURE BECOMES A NATIONAL INCIDENT

Inspired by True Events
Dennis Alexander: Washington Academy Middle School promises to be another in the long line of boring schools he has been expelled from.
Rhonda Snodgrass: Although trained from childhood in survival tactics, she tries to stay off the radar of the "cool" kids who think she's weird.
7th grade turns out to be anything but normal when teachers announce the students' bloodless revolution succeeded and they are now in charge. After conducting a secret-ballot vote on policy, the 7th graders emerge to find the school evacuated and the FBI lurking outside with the task of unearthing a treasure of national importance.
The students' mission is clear--discover the treasure before the FBI locks down the building. Dennis and Rhonda lead the revolt and must work together to follow century-old clues left by a crazy Revolutionary War buff.
To stay one step ahead of the FBI, they must delve into history and amass an arsenal to defend their school ... because this is WAR