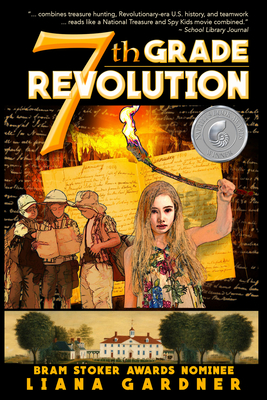 7th Grade Revolution (Paperback)
Vesuvian Books, 9781944109462, 300pp.
Publication Date: October 1, 2017
Other Editions of This Title:
Hardcover (7/7/2020)
* Individual store prices may vary.
Description
WHEN UNEARTHING A NATIONAL TREASURE BECOMES A NATIONAL INCIDENT
Inspired by True Events
Dennis Alexander: Washington Academy Middle School promises to be another in the long line of boring schools he has been expelled from.
Rhonda Snodgrass: Although trained from childhood in survival tactics, she tries to stay off the radar of the "cool" kids who think she's weird.
7th grade turns out to be anything but normal when teachers announce the students' bloodless revolution succeeded and they are now in charge. After conducting a secret-ballot vote on policy, the 7th graders emerge to find the school evacuated and the FBI lurking outside with the task of unearthing a treasure of national importance.
The students' mission is clear—discover the treasure before the FBI locks down the building. Dennis and Rhonda lead the revolt and must work together to follow century-old clues left by a crazy Revolutionary War buff.
To stay one step ahead of the FBI, they must delve into history and amass an arsenal to defend their school … because this is WAR!
Awards
Silver Medal — 2018 Nautilus Book Awards — Middle Grade FictionWinner — 2018 Digital Book World Awards — Best Use of Social Media in BookWinner — 2018 American Fiction Awards — Pre-Teen Fiction (Ages 10-12)Finalist — 2018 Silver Falchion Awards — Best Juvenile FictionFinalist — 2018 Digital Book World Awards — Best Book (Children's)Finalist — 2018 International Book Awards — Children's FictionHonorable Mention— 2018 Hollywood Book Festival — Children's Fiction
About the Author
Liana Gardner is the multi-award-winning author of 7th Grade Revolution and The Journal of Angela Ashby. The daughter of a rocket scientist and an artist, Liana combines the traits of both into a quirky yet pragmatic writer and in everything sees the story lurking beneath the surface.
Liana volunteers with high school students through EXP (expfuture.org). EXP unites business people and educators to prepare students for a meaningful place in the world of tomorrow. Working in partnership with industry and educators, EXP helps young people EXPerience, EXPand, and EXPlore.
Engaged in a battle against leukemia and lymphoma, Liana spends much of her time at home, but her imagination takes her wherever she wants to go.  
Liana is a member of the Society of Children's Book Writers and Illustrators.