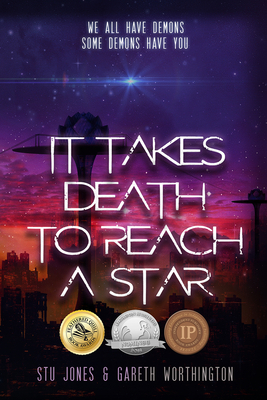 It Takes Death to Reach a Star (It Takes Death To Reach A Star Duology #1)
Paperback

* Individual store prices may vary.
Other Editions of This Title:
Digital Audiobook (5/23/2018)
Hardcover (3/3/2020)
Description
WE ALL HAVE DEMONS. SOME DEMONS HAVE YOU.The world you know is dead. We did this to ourselves.
The epidemic struck at the end of the Third World War. Fighting over oil, power, and religion, governments ignored the rise of an antibacterial-resistant plague. In just five years, the Earth was annihilated. Only one city survived—Etyom—a frozen hellhole in northern Siberia, engulfed in endless conflict.
The year is 2251.
Two groups emerged from the ashes of the old world. Within the walled city of Lower Etyom dwell the Robusts—descendants of the poor who were immune to the New Black Death. Above them, in a metropolis of pristine platforms called lillipads, live the Graciles—the progeny of the superrich, bio-engineered to resist the plague.
Mila Solokoff is a Robust who trades information in a world where knowing too much can get you killed. Caught in a deal gone bad, she's forced to take a high-risk job for a clandestine organization hell-bent on revolution.
Demitri Stasevich is a Gracile with a dark secret—a sickness that, if discovered, will get him Ax'd. His only relief is an illegal narcotic produced by the Robusts, and his only means of obtaining it is a journey to the arctic hell far below New Etyom.
Thrust together in the midst of a sinister plot that threatens all life above and below the cloud line, Mila and Demitri must master their demons and make a choice—one that will either salvage what's left of the human race or doom it to extinction …
Awards
Bronze Winner — 2019 Independent Publisher Book Awards — Science Fiction
Gold (1st Place) Winner — 2019 Feathered Quill Book Awards — Science Fiction/Fantasy
Finalist — 2018 Dragon Awards — Science Fiction
Winner — 2018 New York Book Festival — Science Fiction
Praise For It Takes Death to Reach a Star (It Takes Death To Reach A Star Duology #1)…
"… merging the best of apocalyptic fiction and sci-fi … compelling." —Library Journal

"Cinematic, thought-provoking, and immersive … in the manner of the novels of Philip K. Dick." —BOOKLIST

"One-of-a-kind, richly imagined and vividly portrayed. The sense of pacing is exquisite." —Jason Kirk, 47North
Vesuvian Books, 9781944109523, 324pp.
Publication Date: May 1, 2018
About the Author
A veteran law enforcement officer, Stu has worked as a beat cop, an investigator, an instructor of firearms and police defensive tactics and as a member and team leader of a multi-jurisdictional SWAT team. He is trained and qualified as a law enforcement SWAT sniper, as well as in hostage rescue, close quarter combat and high-risk entry tactics. Recently, Stu served for three years with a U.S. Marshal's Regional Fugitive Task Force - hunting the worst of the worst.

Known for his character-driven stories and blistering action sequences, Stu strives to create thought-provoking reading experiences that challenge the status quo. When he's not chasing bad guys or writing epic stories, he can be found planning his next adventure to some remote or exotic place.

Stu lives in Alabama with his wife, two children, and a golden-doodle who thinks he's human.

Gareth Worthington holds a degree in marine biology, a PhD in Endocrinology, an executive MBA, is Board Certified in Medical Affairs, and currently works for the Pharmaceutical industry educating the World's doctors on new cancer therapies. Gareth is an authority in ancient history, has hand-tagged sharks in California, and trained in various martial arts, including Jeet Kune Do and Muay Thai at the EVOLVE MMA gym in Singapore and 2FIGHT in Switzerland. His work has won multiple awards, including Dragon Award Finalist and an IPPY award for Science Fiction. He is a member of the International Thriller Writers Association, Science Fiction and Fantasy Writers of America, and the British Science Fiction Association. Born in England, Gareth has lived around the world from Asia, to Europe to the USA. Wherever he goes, he endeavors to continue his philanthropic work with various charities.