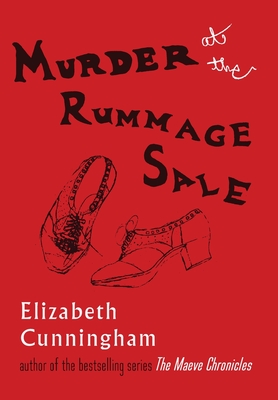 Murder at the Rummage Sale
Hardcover

* Individual store prices may vary.
Other Editions of This Title:
Paperback (7/24/2016)
Description
Before there were supermalls, before there were hordes stampeding for Black Friday bargains, there was...The Church of the Regeneration's Annual Fall Rummage Sale
September 1960. Kennedy and Nixon race for the presidency, and the Women of the Church of the Regeneration prepare as usual for the annual rummage sale under the imperious direction of their leader, the light-fingered Charlotte Crowley....Until she is found in the basement smothered by a bag of coats still wrapped in plastic from the drycleaners.
Though the police initially rule the death an accident, Lucy Way, an older, not-quite-maiden lady with a mystical bent, has her doubts. She donated the coats and saw them to their proper department. How did they end up on top of Charlotte in the basement?
Joining Lucy as amateur detectives:
The Reverend Gerald Bradley, who reluctantly concedes that Charlotte makes a perfect murder victim. Who, among his errant flock, didn't want to murder Charlotte?
Anne Bradley, the rector's mousy wife, a closet atheist, who is oddly flattered when she discovers her husband believes her capable of murder.
Katherine Bradley, the minister's seven-year-old daughter, and her sworn blood-brother Frankie Lomangino Jr., whose ex-con father is an easy target for the official investigation.
There is no dearth of suspects from the irascible organist, who guards a secret past and present, to a pious, pesky widow with a mad passion for the newly-bereaved widower. Amidst the juggernaut of the rummage sale, surrounded by a host of maddening and endearing parishioners, the self-appointed sleuths pursue the truth at their peril.
"There had been murder done, and now they were all caught up in it willy-nilly, " thinks Lucy Way (please, no Miss Marple jokes ) "whether they liked it or not. If they were all in a detective novel, this would be the point at which Lucy would want to put the book down, although of course she never did. One had to going on grimly reading to find out who done it. But that was not why she read detective novels. She chose them for their miniature portrait of a world, their cast of eccentric characters..."
In her debut mystery, acclaimed novelist Elizabeth Cunningham delivers both gripping plot and characters drawn with humor, compassion and psychological depth. Readers who have experienced a small town church will recognize old friends--and nemeses. Those for whom such a setting is exotic, prepare to be initiated into the arcane mysteries of parish life. A mystery in the classic tradition, Murder at the Rummage Sale brings to fresh life the timeless quirks and contradictions of human nature, the comic and the poignant, the merciful--and the murderous.
Imagination Fury Arts, 9781944190002, 428pp.
Publication Date: June 3, 2016
or
Not Currently Available for Direct Purchase