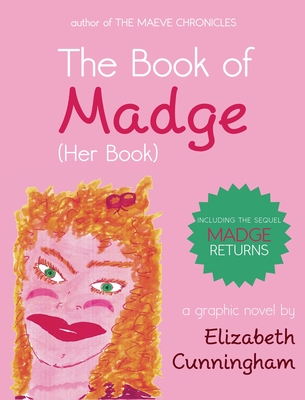 The Book of Madge (Hardcover)
Imagination Fury Arts, 9781944190101, 130pp.
Publication Date: November 1, 2017
* Individual store prices may vary.
Description
In 1990, novelist Elizabeth Cunningham found herself engaged with an outspoken, irreverent, hand-drawn character who called herself Madge and demanded her own book of cartoons. Together, Madge and Elizabeth graphically (in every sense ) protested the first Gulf War, and The Book of Madge took form. This collaboration led them to write The Maeve Chronicles, a series of award-winning novels featuring a feisty Celtic Magdalen.
In November 2016 Madge Returns, taking a flying leap into the 21st century, landing more or less on her feet, or at any rate collapsing on the bed in the blue-striped bathrobe that has traversed the centuries....
Now, for the first time, Maeve fans can meet her as Madge in her contemporary, pictorial form. Madge, Magdalen, Maeve, she is the same, outrageous, Madgical being. And if you have never met her before, here she is in all her (naked) glory