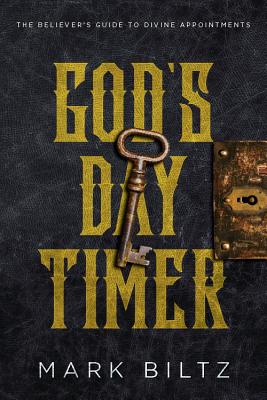 God's Day Timer
The Believer's Guide to Divine Appointments
Paperback

* Individual store prices may vary.
Other Editions of This Title:
Compact Disc (9/13/2016)
Description
Are you ready to go on the most thrilling adventure of your life?
God loves to play hide and seek and for those who search for Him with all their hearts, He makes Himself known. God's Day Timer provides the biblical keys that unlock hidden treasures just waiting to be discovered. Author, teacher, and pastor Mark Biltz offers tremendous insight into being in touch with God.
In Genesis the Hebrew word for "seasons" is translated in Leviticus as "feasts." A better translation is "divine appointments." God tells us that the sun and the moon are to be used to determine when the divine appointments occur, which is critical to understanding when God will intersect human history. In God's Day Timer, Pastor Biltz breaks down the divine appointments, or seven feasts of the Lord, to make it easy to understand for beginners and explains how to keep the Sabbath and get on God's schedule to better understand His timing and the signs of the coming events. 
Discover the importance of keeping the Passover and Yom Kippur among the other feasts.
Learn how to perform a weekly Shabbat.
Find out the various steps of administering a Seder dinner
Realize why it is vital for Christian believers to be on the biblical calendar
God's Day Timer takes you on a journey that will unlock treasure chests full of golden insights. Sit back, put on your 3-D Bible glasses and come on an adventure that will radically change your life.
Praise For God's Day Timer: The Believer's Guide to Divine Appointments…
"As multitudes of Christians awaken to blessings inherent in observing the biblical holidays or more correctly "the appointed times," Pastor Mark Biltz has been a leading voice speaking to this often-misunderstood topic. In discussing this thoroughly biblical concept, Mark Biltz truly shines." — Joel Richardson, New York Times bestselling author, filmmaker, and internationally recognized teacher
"If you ever wanted to know how to practically apply the Feasts of the Lord to your church and family life, in a biblical and Jesus-honoring way, then this is the book for you! Pastor Mark Biltz lays everything out in an easy-to-read and step-by-step fashion giving you the solid, biblically contextual foundation along the way. Be prepared to unearth a treasure-trove of biblical knowledge on this incredible journey through God's Day Timer." — Carl Gallups, pastor, author of When the Lion Roars, and host of Freedom Friday podcast
WND Books, 9781944229238, 240pp.
Publication Date: September 13, 2016
About the Author
Mark Biltz, bestselling author of Blood Moons: Decoding the Imminent Heavenly Signs and founder of El Shaddai Ministries, is a well-known commentator on the feasts of the Lord who has spoken in South Africa, South Korea, Singapore, Israel, Sweden, Germany, Switzerland, Canada and throughout the United States. He has been interviewed by FOX television, appeared on the Sid Roth television broadcast, the Jim Bakker Show, the Jewish Voice, as well as on Prophecy in the News, and he was the first to discover the blood moon prophecies. Pastor Mark lives in Bonney Lake, Washington.